A easy to make starter recipe where Prawns are tossed in a egg and flour mixture, deep fried and salt and pepper sprinkled on them.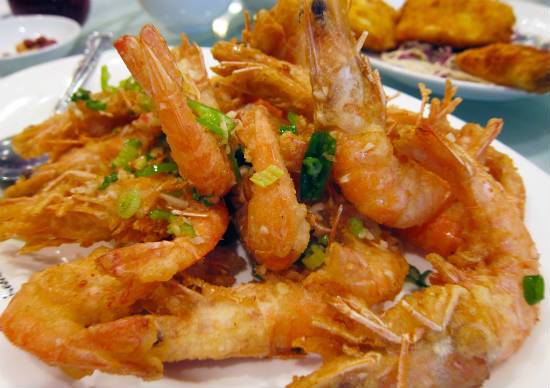 Ingredients:
Prawns – 250 gms, peeled, deveined
Egg Whites – 1 to 2, lightly beaten with 1 tsp water
Flour – 1/2 cup
Sea Salt – 1 tsp
Black Pepper Powder – 1/2 tsp
Oil for deep frying
Lime Wedges – few, to serve
Spring Onions – little, to garnish (optional)
Method:
1. Heat oil in a deep frying pan over medium flame.
2. Add red chilli powder to the flour and mix well.
3. Dip the prawns in the egg mixture and then in the flour mixture, shaking off any excess.
4. Add to the hot pan and deep fry for a minute or until golden and crisp.
5. Remove and drain excess oil.
6. Sprinkle sea salt and pepper powder.
7. Serve with a dipping sauce and lime wedges.