Savor the perfect blend of garlic, onion, and spices in this bold and tangy kuzhambu, an ideal companion to steamed rice.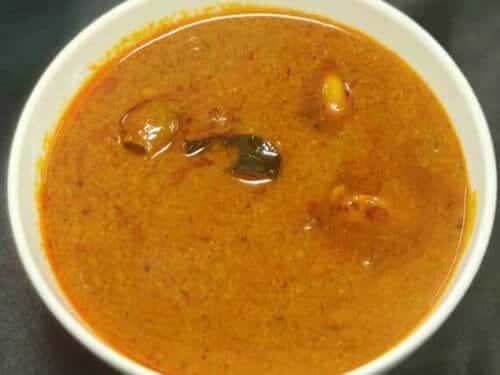 Garlic Onion Kara Kuzhambu is a tantalizing South Indian curry that will ignite your taste buds with its bold flavours. Bursting with the pungent aroma of garlic and the sweetness of caramelized onions, this kuzhambu (curry) is a delightful blend of spices and tangy tamarind. The robust combination of garlic and onion creates a depth of flavour that will leave you craving more.
This recipe's garlic and onion are sautéed to perfection, releasing their natural oils and infusing the curry with distinct flavours. The spices add a touch of heat and complexity. At the same time, the tamarind brings a tangy and slightly sour note that balances the overall taste. This kuzhambu is the perfect companion to steamed rice, with its rich and aromatic gravy coating each grain.
Suppose you enjoy the bold flavours of this Garlic Onion Kara Kuzhambu. In that case, you might also appreciate other similar South Indian curries, such as Vatha Kuzhambu, Puli Kuzhambu, or Paruppu Urundai Kuzhambu. These dishes share the same passion for spices and robust flavours, making them a great addition to your culinary repertoire.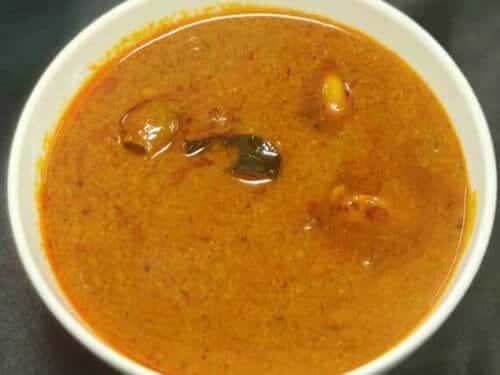 Garlic Onion Kara Kuzhambu
Savor the perfect blend of garlic, onion, and spices in this bold and tangy kuzhambu, an ideal companion to steamed rice.
Ingredients
100

g

Small Red Onions

8 to 10

Garlic Cloves

1 lemon sized ball

Tamarind

1/2

tsp

Turmeric Powder

2 1/2

tbsp

Oil

as per taste

Salt to taste
Fry in 1 to 2 tsp Oil
3

tbsp

Coriander Seeds

6 to 8

Red Chillies

1/2

tsp

Fenugreek Seeds

1

tsp

Aniseed

1 1/2

tsp

Urad Dal
For Seasoning
1/2

tsp

Mustard Seeds

2 sprigs

Curry Leaves
Instructions
Wash and peel onions and garlic.

In 2 tbsp oil, fry onions and garlic to a brown.

Remove 5-6 onions, 4-5 cloves of garlic, cool and grind this along with coriander seeds, red chillies, fenugreek seeds, aniseed and urad dal. Set aside.

Boil tamarind in water, take out extract.

Add sufficient water if too thick, add this to fried onions and garlic along with turmeric powder, salt and 1 sprig curry leaf and set to boil.

When sufficiently boiled, add ground masala.

If masala is too thick, add some water.

Simmer for 2 to 3 minutes or till gravy is blended.

Heat 1 tsp oil, fry mustard seeds and curry leaves and add to the kuzhambu.

Serve hot with rice.
Frequently Asked Questions about Garlic Onion Kara Kuzhambu
Can I adjust the spice level of Garlic Onion Kara Kuzhambu?
Certainly! The spice level of this kuzhambu can be tailored to suit your taste preferences. If you prefer a milder version, you can reduce the amount of red chilli powder or omit it entirely. On the other hand, if you crave extra heat, feel free to add a pinch of cayenne pepper or some finely chopped green chillies. Adjusting the spice level allows you to customize the kuzhambu according to your liking. 
Can I add vegetables to Garlic Onion Kara Kuzhambu?
Absolutely! Adding vegetables is a great way to enhance the nutritional value and texture of the kuzhambu. You can include vegetables like drumsticks, brinjal (eggplant), okra, or mixed vegetables. Chop them into bite-sized pieces and add them during the cooking process. The vegetables will absorb the flavours of the kuzhambu and provide additional depth and colour to the dish. Suppose you're a fan of vegetable-based kuzhambu recipes. You might also enjoy recipes like Poondu Kuzhambu (Garlic Kuzhambu) or Keerai Kuzhambu (Spinach Kuzhambu). 
Can I store Garlic Onion Kara Kuzhambu?
Yes, you can store Garlic Onion Kara Kuzhambu for future enjoyment. Once prepared, allow the kuzhambu to cool to room temperature and transfer it to an airtight container. Refrigerate it, and it will stay fresh for 2-3 days. Before consuming, reheat the kuzhambu on the stovetop or microwave until piping hot. The flavours develop and intensify over time, making the leftovers even more delicious. Just remember to consume it within the recommended time frame to ensure freshness. 
What are some suitable accompaniments for Garlic Onion Kara Kuzhambu?
Garlic Onion Kara Kuzhambu pairs exceptionally well with steamed rice. The rich, tangy gravy complements the fluffy rice perfectly. You can also serve it with a side of papad (papadum) or appalam for some added crunch. Additionally, a refreshing cucumber or onion raita can provide a cooling contrast to the spicy kuzhambu. If you're looking for more traditional accompaniments, dishes like Poriyal (stir-fried vegetables), Vadai, or Thogayal (chutney) make delightful companions to this flavorful kuzhambu. Experiment with different combinations to create a balanced and satisfying meal.