A delicious and healthy burger that kids would love.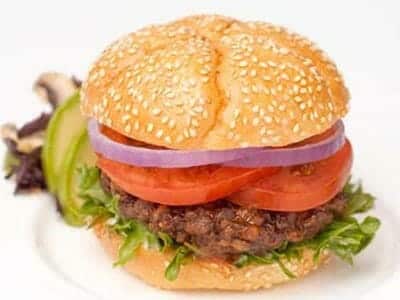 Ingredients:
Rajma (Red Kidney Beans) – 400 gms, soaked in slightly salted water, drained and rinsed
Red Chilli Flakes – 1 tsp
Cumin Powder – 1/2 tsp
Coriander Leaves – handful, chopped
Zest of 1/2 Lime – finely grated
Egg – 1, small, beaten (for a vegetarian version omit this)
Salt as per taste
Black Pepper Powder as per taste
Breadcrumbs – 1/2 cup
Oil as required
To serve:
Tomato Sauce
Sliced Onions
Sliced Tomatoes
Lettuce
Pepper Powder
Butter (or Mayonnaise)
Burger Buns – halved, toasted
Method:
1. Combine the rajma, red chilli flakes, egg, cumin powder, coriander leaves, lime zest, salt, pepper powder and breadcrumbs in a blender
2. Blend until coarsely thick.
3. Transfer to a bowl and make 3 to 4 medium sized balls of the mixture.
4. Flatten them to make a burger patty and place them on a plate.
5. Keep the plate in the fridge for 8 hours or overnight.
6. Heat little oil in a nonstick frying pan.
7. Cook the burger patties on both sides for 10 to 20 minutes or until golden and crisp.
8. Spread butter/mayonnaise on one half of the burger bun.
9. Place one of the cooked patty and top up with onions, lettuce, tomatoes.
10. Sprinkle a little pepper powder on top.
11. Serve with tomato sauce.
Tip: You can also add onions, mashed potatoes, green chillies if desired at step #1
image via indocanadians.ca