Motichoor Ladoo is one of the most popular ladoo varieties served as a dessert sweet during festivals and special occasions.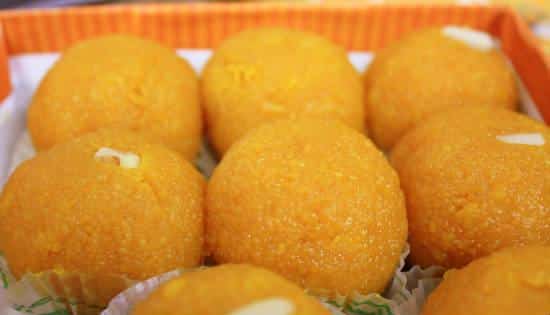 Ingredients:
Besan Flour – 5 cups
Milk – 1 litre
Cardamom Powder – 1 tsp
Ghee – 6 cups
Orange Food Colour – 1/2 tsp (or as required)
Baking Soda – a large pinch
Almonds – few, chopped
For the Sugar Syrup:
Sugar – 5 cups
Water – 7 cups
Milk – 1/4 cup
Ghee – 6 cups
Method:
1. To make the sugar syrup, heat water in a large pan over medium flame.
2. Add sugar and stir until fully dissolved.
3. Bring to a boil.
4. Add the milk and simmer for 3 to 5 minutes.
5. Remove the scum that rises to the top.
6. Boil until it has reached one string consistency.
7. Remove from flame.
8. Add cardamom powder and orange food colour.
9. Stir well and keep aside.
10. In a large bowl, mix the besan flour and milk until smooth.
11. Add baking soda and mix again.
12. Heat ghee in a large frying pan.
13. Keep a perforated ladle on top of the oil and add some of the batter.
14. Allow them to fall into the hot oil and cook until golden and soft.
15. Remove and drain excess oil.
16. Drop them in the sugar syrup and mix well.
16. Allow them to cool slightly and shape them into small/medium ladoos.
17. Garnish with almonds.
18. Store in an airtight container.