Mohanthal is a popular and traditional Gujarati/Rajasthani sweet made using gram flour during festivals and auspicious occasions. Simple and easy to make, it is a common Diwali dessert sweet.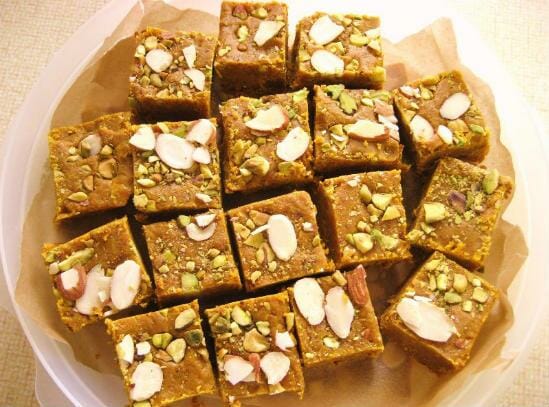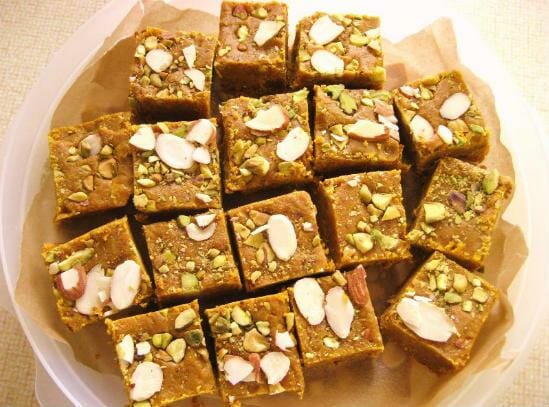 Ingredients:
Bengal Gram Flour – 2 cups
Ghee – 1 cup
Unsweetened Khoya – 1/4 cup, crumbled
Sugar – 3 cups
Milk – 1/4 cup
Almonds – 1 tblsp, finely chopped
Pistachios – 1 tblsp, finely chopped
Saffron Strands – 1/4 tsp, mixed with 2 tblsp warm milk
Cardamom Powder – 2 tsp
Vanilla Essence – few drops
Silver Foil – little, to garnish
Method:
1. Heat ghee in a pan over medium flame.
2. Add the bengal gram flour and stir well until the raw smell disappears.
3. Sprinkle milk on top and cover the pan with a lid.
4. Stir once or twice and switch off the flame when the gram flour turns light golden brown.
5. Heat a pan of water over medium flame.
6. Add the sugar and stir well until fully dissolved.
7. When it has reached a two-string consistency, remove from flame.
8. Add saffron mixture and cardamom powder.
9. Mix well.
10. Add the khoya, bengal gram flour and mix well until it has thickened.
11. Add the vanilla essence and pour this into a greased plate.
12. Smoothen the top using the back of a spoon.
13. Garnish with almonds, pistachios and silver foil.
14. Allow it to cool.
15. Before it cools fully, cut into desired shapes.
16. Serve or store it in a clear, airtight container.