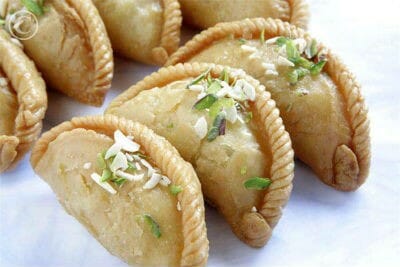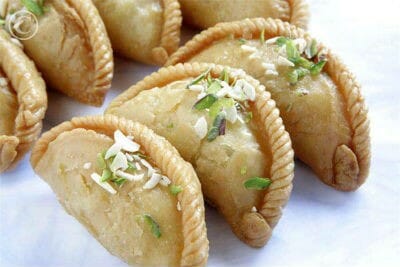 Ingredients:
Sugar – 250 gms
Oil – 300 ml
For the filling:
Milk Khoya – 200 gms
Cardamom Powder – little
Cashewnuts – few, fried in little ghee or oil
Raisins – few, fried in little ghee or oil
For the pastry:
Maida – 1 cup
Cooking Soda – a pinch
Salt – a very small pinch or as per taste
Ghee – 1 tsp
Method:
1. Boil the sugar with little water to a thick, sticky consistency.
2. Combine all the filling ingredients in a bowl and make small balls of the mixture.
3. In a separate bowl, mix the pastry ingredients with little water to a thick dough consistency.
4. Make small balls and roll them into small puris.
5. Add 1 of the prepared filling ball and fold into a small samosa or into a half-moon shape.
6. Heat oil in a frying pan.
7. Fry the prepared gujiyas till golden brown and remove.
8. Drain excess oil and transfer to a plate.
9. Add 1 tsp of the sugar syrup on top and garnish with kopra or sliced almonds (if desired).