Creamy Mango Delight! Indulge in the lusciousness of sweet mango pulp, rich milk, and fragrant cardamom in this delectable Mango Payasam.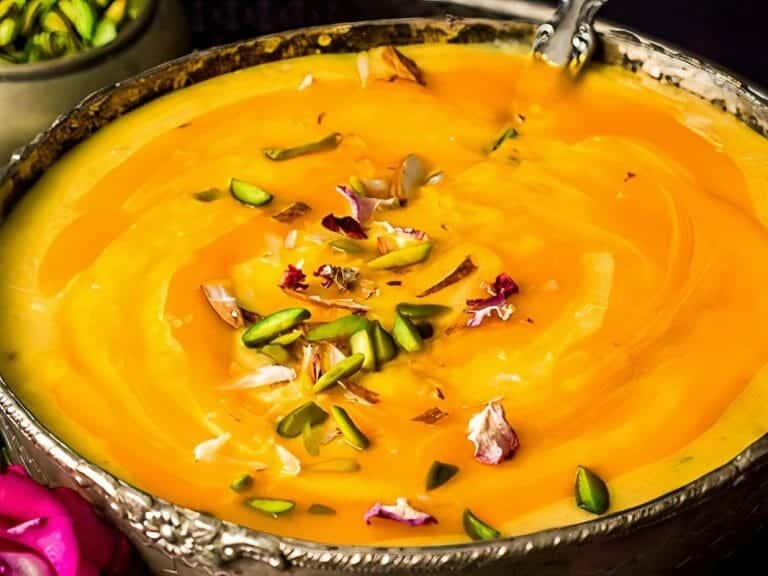 Mango Payasam, a tropical delight that captures the essence of ripe mangoes, celebrates flavours and textures. This indulgent dessert showcases the rich harmony of sweetened mango pulp, creamy milk, and the subtle crunch of coarsely ground rice rava. The dish is elevated with the warmth of cardamom and a pinch of Kesari powder, delivering an exquisite medley of tastes in every spoonful.
Immerse yourself in the velvety smoothness as the milk reduces, infusing the mango goodness into the heart of the Payasam. The dish is delicately sweetened with sugar and condensed milk, imparting a luscious creaminess that perfectly complements the fruity mango notes. As you take that first spoonful, the fragrance of cardamom envelops your senses, adding a touch of elegance to the experience.
Mango Payasam is a dessert that can stand on its own or pair beautifully with other tropical delights like Coconut Ladoo or Pineapple Kesari for a complete feast of flavours. Whether it's a festive occasion or a simple craving for something divine, Mango Payasam is your answer to an unforgettable dessert journey.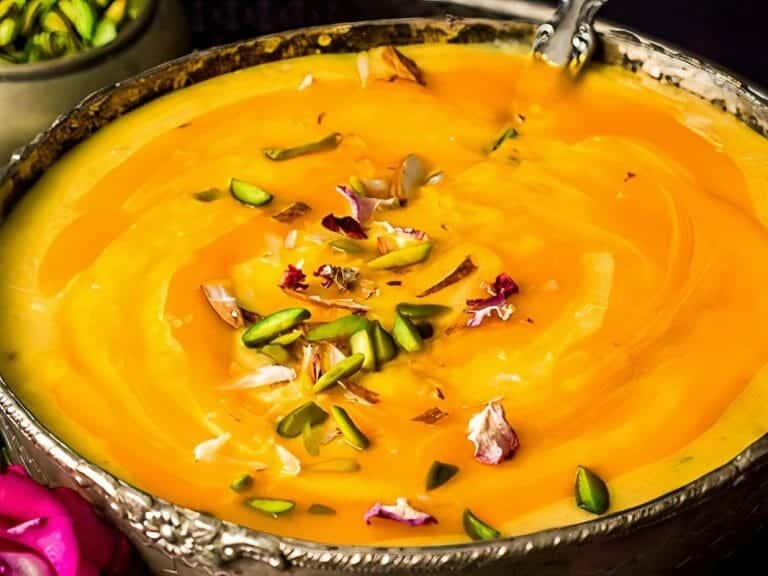 Mango Payasam

Recipe

Creamy Mango Delight! Indulge in the lusciousness of sweet mango pulp, rich milk, and fragrant cardamom in this delectable Mango Payasam.
Ingredients for
Mango Payasam
1/2

cup

Mango Pulp (sweetened)

1/4

cup

Sugar

500

ml

Milk

3

tsp

Rice Rava (Coarsely ground raw rice)

A pinch of Kesari Powder

1 1/2

tsp

Ghee

1

tsp

Cashew nuts

1

tsp

Raisins

3

tsp

Condensed Milk

A pinch of Cardamom Powder

Few drops of Mango Essence (optional)
How to make
Mango Payasam
In a pan, fry cashew nuts and raisins in a little ghee. Remove and set aside.

In the same pan, add the remaining ghee and fry rice rava until golden.

Pour milk into the pan and bring it to a gentle boil.

Once the rava turns translucent and the milk reduces, add sugar and condensed milk. Stir well.

Sprinkle kesari powder and cardamom powder. Mix thoroughly.

Add mango pulp and gently combine.

Simmer the mixture for a few minutes.

Remove from the flame and garnish with fried cashew nuts and raisins.

For an optional twist, add a few drops of mango essence and mix.

Serve the exquisite Mango Payasam and savour the tropical magic!
Serving Size: 4 servings
FAQs
How can I enhance the Mango Payasam experience?
Elevate your dessert game by pairing Mango Payasam with a scoop of homemade Coconut Ice Cream. The creamy textures and complementary flavors will leave your taste buds dancing in delight.
Can I use canned mango pulp for this recipe?
Absolutely! Canned mango pulp works perfectly fine and ensures a consistent mango flavor throughout the Payasam.
Is Mango Payasam suitable for special occasions?
Without a doubt! Mango Payasam is an exceptional choice for celebrations. Its vibrant color and rich taste make it a showstopper at any gathering.
Can I make Mango Payasam in advance?
Indeed, you can prepare the Payasam a day ahead and refrigerate it. Just give it a gentle reheat before serving, and you're in for a delightful treat.
What other mango-infused desserts do you recommend?
If you're a mango lover, you'll also enjoy trying out Mango Srikhand and Mango Coconut Panna Cotta. These desserts highlight the incredible versatility of this tropical fruit.