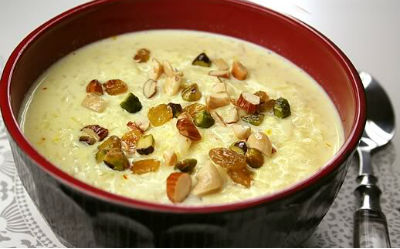 Ingredients:
Semiya (Vermicelli) – 100 gms, thin variety
Milk – 1 1/2 litres
Almonds – few
Cashewnuts – few
Dates – 10, pitted, chopped
Cardamom Powder – 1/4 tsp
Ghee – 2 tblsp
Sugar – 2 cups
Method:
1. Heat a little ghee in a pan.
2. Fry the cashewnuts, almonds and remove.
3. Lightly roast the semiya till golden and remove.
4. Heat milk in a broad vessel till it reduces by half.
5. Add the vermicelli and mix well.
6. Simmer for 10 minutes and add sugar.
7. When it starts to leave the sides of the pan, add cashewnuts, dates and almonds.
8. Add cardamom powder and mix well.
9. Remove and serve in small bowls.
Note: image is for illustration purposes only and not that of the actual recipe.