Ada Pradhaman is a rich and delicious Kerala style rice pudding usually prepared during Onam or Vishu.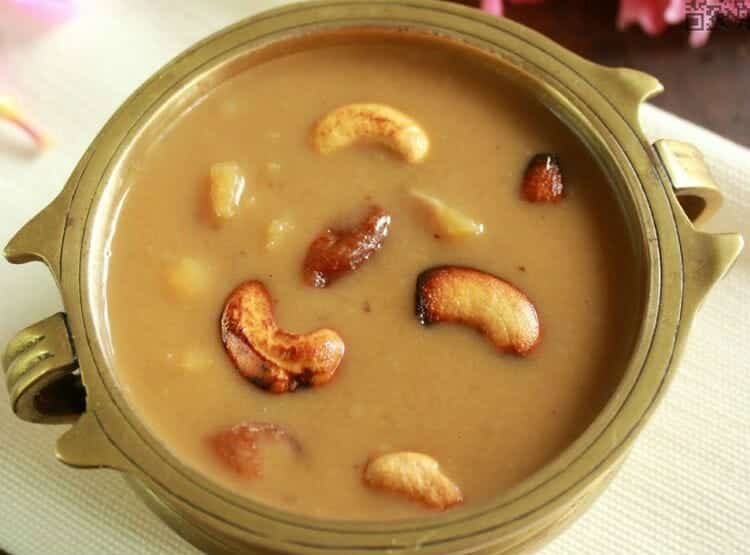 Ada Pradhaman is a popular Kerala sweet / dessert made during Onam festival and served at the end of the Onam Sadya. It is a rich and traditional Kerala style payasam without which the Onam Sadya is incomplete. It is considered to be the king of desserts in Kerala and is a common dish in almost all the major festivals that happen in God's own country.
There are numerous variations to this dish, having been passed down from generation to generation.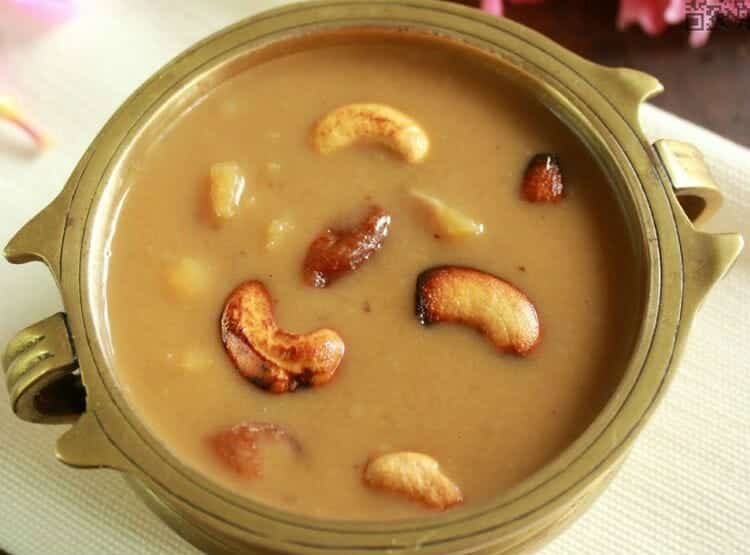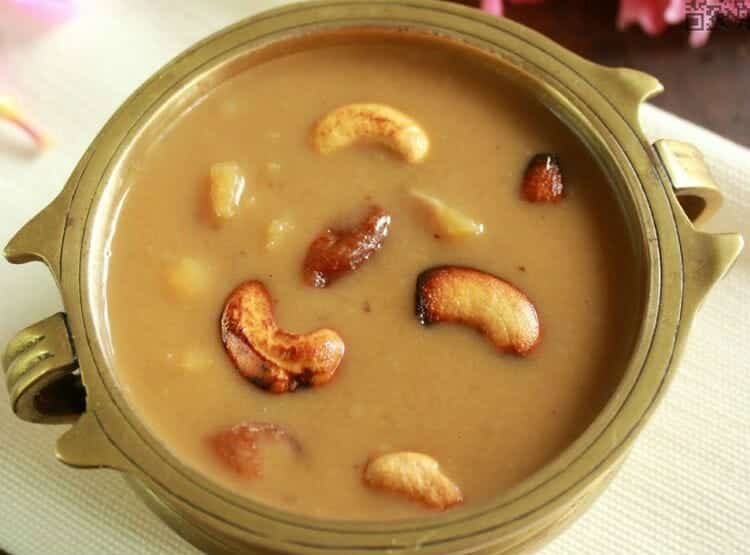 Ada Pradhaman

Recipe

Ada Pradhaman is a rich and delicious Kerala style rice pudding usually prepared during Onam or Vishu.
Ingredients for
Ada Pradhaman
1/2

cup

Raw Rice

1/2

cup

Sugar

1

Coconut

250

g

Jaggery

powdered

Plantain Leaves

as needed

2

tbsp

Cashew Nuts

2

tbsp

Raisins

1/2

tsp

Cardamom Powder

Ghee

as required
How to make
Ada Pradhaman
Soak the rice for 30 to 60 minutes.

Drain well and spread it to dry on a white cloth for an hour or two.

Once all moisture has gone, grind to a fine powder and sieve well.

Heat 1 tsp of ghee and add to the powder.

Add 1 tsp of sugar and enough warm water.

Mix well to a chapati dough consistency.

Cut the plantain leaves into small-medium squares.

Hold them over low flame to make them flexible.

Heat a large pan of water and bring to a boil.

Make small balls of the dough and place them on the plaintain leaves.

Spread them using the back of a spoon or your palm.

Drop this into the boiling water.

Once cooked, the ada will start to float.

Alternatively you can steam cook the ada. Remove, strain and scrape out the adas . Wash them in plenty of water to remove the stickiness and chop them finely.

Grate the coconut and extract 1 cup of thin milk (second miland 1 cup of thick milk (first milk).

Heat ghee in a pan over medium flame.

Add the cooked ada and fry well.

Add the thin milk, jaggery and sugar.

Simmer for 5 to 10 minutes.

Now add the thick milk and simmer for another 5 minutes, stirring thoroughly.

Add cardamom powder and mix well.

Fry the cashew nuts and raisins in little ghee and add to the pan.

Serve at room temperature.
Notes
You can also buy readymade ada (also called as Palada) and use.