Creamy Cashew Paneer Masala: A Luscious Fusion of Flavors.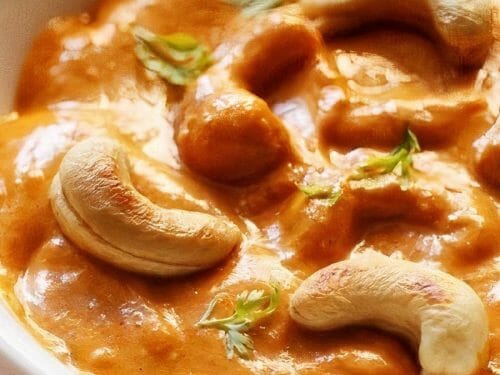 Elevate your dining experience with the sumptuous symphony of Cashew Paneer Masala. This delectable dish combines the delicate flavours of paneer with the indulgent creaminess of cashews, resulting in a culinary masterpiece that tantalizes taste buds.
The journey begins with golden-brown fried paneer, setting the stage for a rich and satisfying meal. Cashews, the heart of this creation, are fried to perfection, adding a luxurious texture and taste that's truly exceptional. Onions take a flavorful turn as they transform into a smooth paste, enhancing the dish's depth.
Tomatoes, garlic, and ginger join the stage, boiling to a soft perfection before transforming into a luscious puree. Watermelon seeds and poppy seeds contribute their unique essence, ground into a delicate paste that dances harmoniously with the other flavours. The dance of textures and flavours is choreographed with a medley of aromatic spices, infusing the dish with warmth and complexity.
The magic unfolds as the onion, cashew, and tomato puree harmoniously meld, creating a velvety symphony. Gradually introducing milk, the dish takes on a luxurious creaminess that envelops every bite. The crescendo of flavours reaches its peak with the addition of garam masala and a sprinkle of salt.
As the fragrant gravy thickens, tender paneer and cashews are blended back into the mix. The final simmer allows all the elements to meld, resulting in a dish that's visually appealing and a celebration of flavours.
Cashew Paneer Masala is best enjoyed with fresh naan or fragrant rice, inviting you to savour every bite and experience the fusion of textures and tastes. For those who appreciate similar delights, explore pairings like Palak Paneer or Shahi Paneer, embracing the richness of paneer in different forms.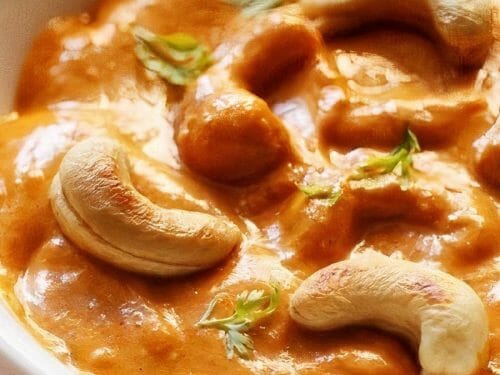 Cashew Paneer Masala
Creamy Cashew Paneer Masala: A Luscious Fusion of Flavors.
Ingredients
150

gms Paneer

1/2

cup

Cashews

3

Onions (chopped)

3

Tomatoes (chopped)

3

flakes Garlic (chopped)

Small piece Ginger (chopped)

1

cup

Water

3

tsp

Watermelon seeds

1

tsp

Poppy seeds

1/2

tsp

Red chilli powder

1/2

cup

Milk

1/2

tsp

Garam masala

Coriander leaves

2

tbsp

Oil
Instructions
Fry paneer until golden brown, then set it aside. Fry cashews in the same oil and keep them aside.

Deep fry onions until golden brown, cool, and grind into a paste.

Boil tomatoes, garlic, and ginger in water until soft. Cool and puree.

Soak watermelon seeds and poppy seeds for 2-3 minutes, then grind to a paste.

Heat oil, fry onion paste until brown.

Add chilli powder and poppy seeds paste, stir well.

Add tomato puree, cook until oil separates.

Gradually add milk, stirring constantly. Cook for 3-4 minutes.

Add garam masala and salt.

Add enough hot water for a thick gravy. Boil and simmer for 10-12 minutes.

Add paneer and cashews. Boil once more, simmer for 5 minutes until heated.

Garnish with coriander leaves.

Serve with naan or rice.
Serving Size: 4 servings
Frequently Asked Questions:
Is Cashew Paneer Masala very spicy?
Cashew Paneer Masala offers a moderate level of spice, balanced by the creaminess of cashews and paneer. Adjust the red chilli powder to suit your taste preferences.
Can I substitute milk with a non-dairy option?
Absolutely! You can replace milk with a suitable non-dairy alternative like almond milk or coconut milk for a vegan-friendly version without compromising on the dish's lusciousness.
What can I serve with Cashew Paneer Masala?
Cashew Paneer Masala pairs splendidly with naan or steamed rice, allowing you to savour its rich flavours. If you enjoy this dish, you might also relish the creamy goodness of Malai Kofta or Kadai Paneer.
Can I use store-bought paneer?
Certainly! Store-bought paneer is a convenient option, ensuring a quick preparation without compromising on taste and texture.
Can I make this dish nut-free?
For a nut-free version, you can omit the cashews and watermelon seeds, focusing on the rich flavours of the paneer and aromatic spices.