Hyderabadi Mutton Biryani is one of the most popular recipe of all the Biryani varieties. Cooked in dum, this biryani is best served with raita of choice.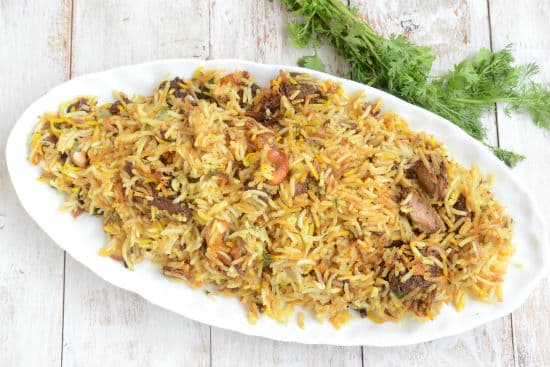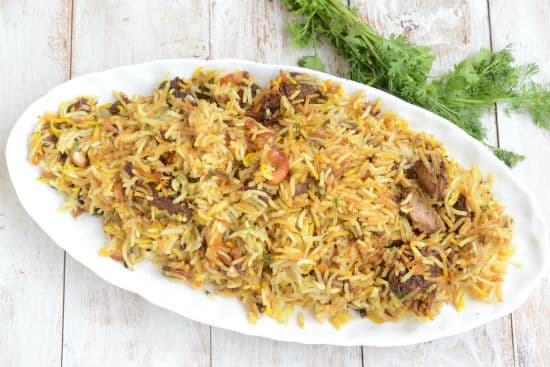 Ingredients:
Basmati Rice – 400 gms
Mutton – 1/2 kg
Onions – 100 gms
Garlic – 3 cloves
Ginger – 1 inch piece
Red Chillies – 5
Green Chillies – 2 to 3
Lemon – 1
Cashew Nuts – 50 gms
Curd – 200 ml
Milk – 100 ml
Coriander Leaves – handful
Oil – 100 ml
Turmeric Powder – a pinch
Cinnamon – a small piece
Cloves – 2
Cardamom – 2
Bay Leaves – 2
Mint Leaves – few
Saffron Strands – few, soaked in warm milk
Salt as per taste
Method:
1. Clean and wash the mutton and cut into small pieces.
2. Clean, wash and soak the rice. Keep aside.
3. Slice the onions, coriander and mint leaves. Grind the ginger, red chillies and garlic into a fine paste.
4. Heat oil and fry the onions till golden brown. Add the ground masala and the meat and fry.
5. Add water and cook till the meat is tender and the gravy is thick.
6. Add salt and boil rice till is it 3/4th cooked.
7. Tie the curd in a muslin cloth till the water drains. Powder the cinnamon, cloves and cardamom and add to the curd.
8. Also add turmeric powder, finely chopped green chillies, lime juice, coriander leaves and mint leaves to the curd.
9. Now add this curd to the mutton.
10. In a heavy bottom pan, put layers of rice, mutton and fried onions. Repeat the layers till all the rice and mutton are used up. Add saffron soaked in milk.
11. Seal the lid with dough and bake for 20-30 minutes.
12. Garnish with fried onion slices and cashewnuts and serve hot.