Delight in the timeless combination of creamy eggs and crispy bread with the Egg Salad Sandwich, a satisfying and versatile dish perfect for any meal.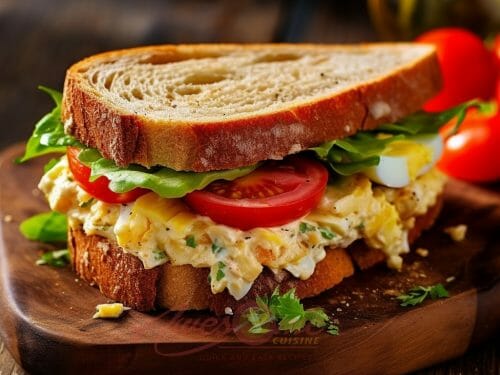 Indulge in the irresistible simplicity of an Egg Salad Sandwich. This timeless favourite combines the smoothness of creamy eggs and the satisfying crunch of toasted bread. This delightful creation offers a harmonious blend of flavours and textures, making it a go-to choice for any meal of the day. The creamy egg salad filling, seasoned with just the right balance of tangy mustard and fresh herbs, is generously layered between two slices of perfectly toasted bread. Each bite reveals the rich creaminess of the eggs, complemented by the contrasting crispy bite of the bread.
The Egg Salad Sandwich is a versatile dish that can be enjoyed independently or with various accompaniments. Serve it alongside a crisp green salad for a light and refreshing lunch, or pair it with a bowl of hot soup for a comforting dinner. Its versatility extends to different types of bread, from classic white or whole wheat to flavorful artisanal options like ciabatta or sourdough.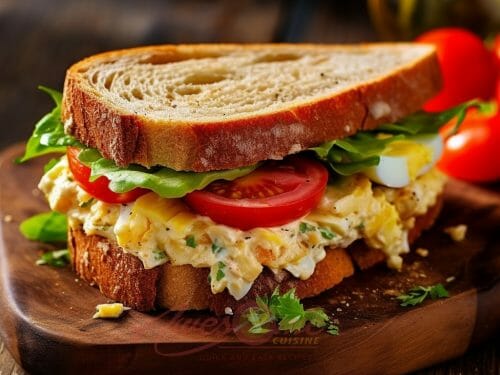 Egg Salad Sandwich
Delight in the timeless combination of creamy eggs and crispy bread with the Egg Salad Sandwich, a satisfying and versatile dish perfect for any meal.
Ingredients
4

Bread Slices

2

Eggs

hard-boiled, finely chopped

4

tsp

Mayonnaise or Butter

1/2

tsp

Red Chilli Flakes

as per taste

Salt

as per taste

Black Pepper Powder

as required

Ghee
Optional:
1

Tomato

sliced

1/4

cup

Spring Onions

finely chopped

1

Red Onion

sliced

few

Lettuce Leaves

chopped
Instructions
Mix the eggs, mayonnaise, red chilli flakes, salt and pepper powder in a bowl.

Spread this on 2 bread slices.

Top up with the tomato, spring onions, red onion and lettuce leaves.

Cover with the remaining slices.

Heat a tawa over low flame.

Place the sandwiches and apply little ghee around the edges.

Cook for 30 seconds on each side and remove.
Frequently Asked Questions (FAQ) – Egg Salad Sandwich
Can I use different types of bread for my Egg Salad Sandwich?
Absolutely! One of the great things about the Egg Salad Sandwich is its versatility regarding bread choices. You can use classic white bread for a nostalgic touch or whole wheat bread for a healthier option. If you prefer a more rustic and artisanal flavour, use a crusty ciabatta or a tangy sourdough bread. The choice of bread can significantly influence your sandwich's overall taste and texture, so feel free to experiment and find your favourite combination.
Can I add extra ingredients to my Egg Salad Sandwich?
Certainly! While the classic Egg Salad Sandwich is delicious, you can get creative and customize it to your liking. Add extra ingredients like crisp lettuce, juicy tomato slices, tangy pickles, or thinly sliced red onion for freshness and flavour. You can also experiment with different herbs and spices, such as dill, chives, or paprika, to enhance the taste of the egg salad. Don't be afraid to get adventurous and make it your own!
Can I make the Egg Salad filling ahead of time?
Absolutely! Making the egg salad filling ahead of time can be pretty convenient. Prepare the egg salad mixture by combining the boiled and mashed eggs with the desired seasonings and refrigerate it in an airtight container. This will allow the flavours to meld together, making the preparation process more straightforward when you assemble your sandwiches. Store it in the refrigerator and use it within a day or two to ensure freshness.
Can I serve the Egg Salad Sandwich for brunch or a picnic?
Absolutely! The Egg Salad Sandwich is a versatile dish that can be enjoyed for various occasions, including brunch or picnics. Its portable nature and delightful flavours make it a perfect addition to a picnic basket. You can also serve it alongside other brunch favourites like fresh fruit salad, crispy bacon, or a side of potato chips for a satisfying meal. It's a classic choice that is sure to please a crowd and add a touch of nostalgia to any gathering.
Can I make a vegan version of the Egg Salad Sandwich?
Yes, you can! Suppose you follow a vegan or plant-based diet. In that case, you can still enjoy a delicious egg salad sandwich using alternative ingredients. Instead of eggs, you can substitute mashed tofu or chickpeas as the base for your salad. Season it with vegan mayo, mustard, and a combination of herbs and spices for a flavorful vegan egg salad. Choose a plant-based bread and add your favourite toppings to create a satisfying vegan version of the sandwich.