Peanut Butter Cookies are a classic teatime treat. Simple and easy to make, they are ideal during tea time or can be served as an anytime snack too.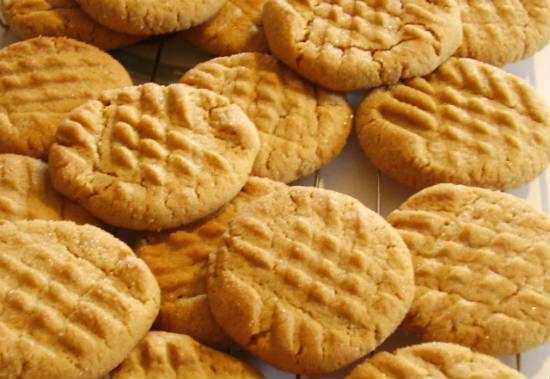 Ingredients:
Maida – 3/4 cup
Baking Soda – 1/2 tsp
Salt – 1/8 tsp
Unsalted Butter – 1/4 cup
Granulated Sugar – 1/4 cup + more for sprinkling
Light Brown Sugar – 1/6 cup
Vanilla Extract – 1/4 tsp
Egg – 1, small
Peanut Butter – 1/4 cup + 1 tblsp
Method:
1. Combine and sift together maida, baking soda and salt in a bowl.
2. Keep aside.
3. Beat together the butter, brown sugar, granulated sugar and vanilla extract till light and fluffy, about 3 to 4 minutes.
4. Add the egg and beat well.
5. Now add the peanut butter and mix until smooth and well combined.
6. Add the maida mixture and mix well.
7. Make small balls of the dough and place them on a baking tray lined with parchment paper.
8. Flatten the balls lightly and sprinkle some granulated sugar on top.
9. Place the tray in a preheated oven at 350F and cook for 10 minutes till lightly browned.
10. Remove and allow the cookies to cool completely.
11. Then store them in airtight containers for up to 2 weeks.
Tip: If desired you can make your own designs on the cookies or leave them plain.