Pongal is a very popular and staple South Indian breakfast dish. This variation is made with Oats and is very healthy. Best served with chutney and sambar of choice.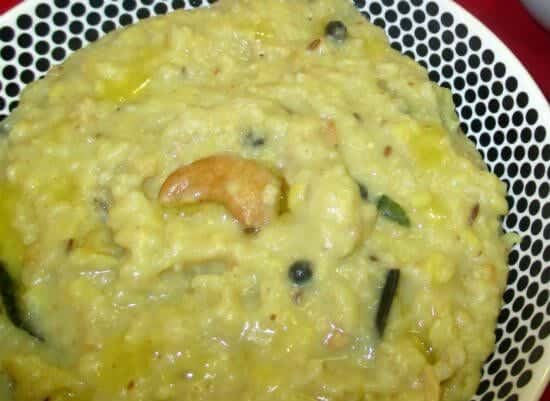 Ingredients:
Oats – 2 cups
Moong Dal (or Green Gram Dal) – 1/2 cup
Cumin Seeds – 3 tsp
Peppercorns – 1 tsp
Pepper Powder – 1 tsp
Cashew Nuts – handful, chopped
Coconut – 1 cup, grated
Turmeric Powder – a pinch
Ghee as required
Method:
1. Dry roast the dal for a minute or two.
2. Combine this with the oats and add to a pressure cooker with 3 to 4 cups of water.
3. Add turmeric powder, coconut, peppercorns and 4 tsp of ghee.
4. Mix well and pressure cook until done, about 5 to 10 minutes.
5. Heat a little ghee in a frying pan.
6. Fry the pepper powder, cumin seeds and cashew nuts for 30 to 45 seconds.
7. Add to the pongal and stir gently.
8. Serve hot with chutney and sambar of choice.