Delicious and filled with goodness, these homemade multigrain pancakes make a great, healthy breakfast option.
Serve with a choice of topping/syrup and fresh fruits.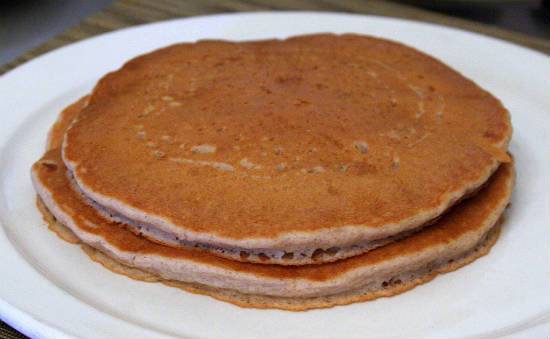 Ingredients:
Whole Wheat Flour – 1/4 cup
Oats – 2 tblsp
Maida (Plain Flour) – 1/4 cup
Corn Flour – 2 tblsp
Light Brown Sugar – 1 1/2 tblsp
Baking Powder – 1/2 tsp
Salt – 1/4 tsp
Egg – 1, medium, whisked
Plain Yogurt – 1/4 cup
Plain Milk – 1/3 cup
Lemon Zest – 1/4 tsp, finely grated
Nutmeg Powder – a pinch
Oil – 2 tblsp
Method:
1. Mix the plain flour, wheat flour, corn flour, oats, brown sugar, baking powder and salt in a large bowl.
2. Mix the eggs, yogurt, milk, lemon zest, nutmeg powder and oil.
3. Pour this into the flour mixture and mix until combined. The batter must have a pourable consistency.
4. Heat little oil in a large nonstick pan.
5. Pour some of the batter and spread slightly.
6. Cook for a minute or two on each side or until lightly browned.
7. Remove and transfer to a serving dish.
8. Serve with a choice of toppings and syrup of choice.