Idlis are one of the most popular breakfast dishes across India. This variation with Oats and Rava gives you a healthy and tasty start to a busy day.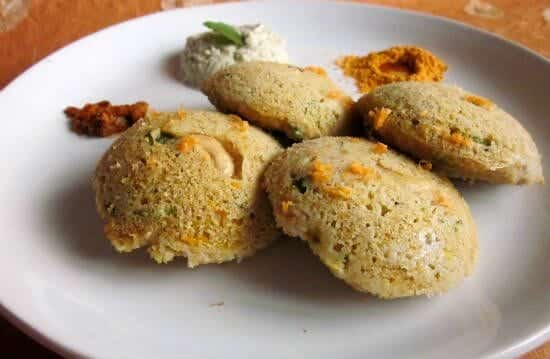 Ingredients:
Oats – 2 cups
Rava (Sooji) – 2 cups
Curd – 1 cup
Buttermilk – 1 1/2 cups (or as required)
Asafoetida – little
Coriander Leaves – handful, chopped
Cooking Soda – 1/2 tsp
Carrot – 2 to 4 tblsp, grated
Green Peas – 2 to 3 tblsp, shelled
Green Chilli Paste as per taste
Mustard Seeds – 3 tsp
Salt as per taste
Oil as required
Method:
1. Dry roast the oats in a pan over medium flame for 3 to 5 minutes.
2. Remove, cool and grind to a coarse/smooth powder.
3. Dry roast the rava until golden and remove.
4. Cool and mix with the oats in a bowl.
5. Heat little oil in a kadhai over medium flame.
6. Fry the mustard seeds for 30 seconds.
7. Add carrot, green peas, green chilli paste and saute for a minute or two.
8. Add this to the oats mixture.
9. Add salt, asafoetida, coriander leaves, cooking soda, curd and buttermilk.
10. Mix well to a idli batter consistency.
11. Cover and keep aside for a few minutes.
12. Pour into greased idli plates and steam cook until done.
13. Remove and serve hot with chutney or sambar.