Rich and Chocolatey, these donuts are hard to resist. They can be served at anytime of the day.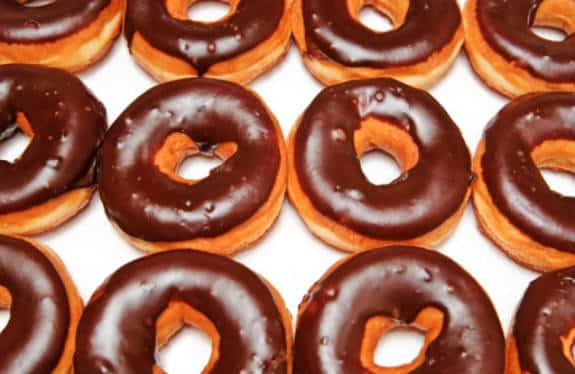 Ingredients:
Maida – 1 cup
Sugar – 1/2 cup
Yeast – 1/2 tsp
Baking Powder – 1/4 tsp
Butter – 2 tblsp
Milk – 1 tsp
Oil for frying
For the Syrup:
Sugar – 1 cup
Water – 1/4 cup
For the Chocolate Sauce:
Chocolate Bar – 1, broken
Cocoa Powder – 1 tblsp
Water – 1 tblsp
Sugar – 1 tblsp
Method:
1. Heat the milk lightly and transfer to a pan.
2. Add sugar and yeast.
3. Stir well and keep aside for 20 minutes.
4. Mix maida, baking powder and 1 tblsp butter together.
5. Combine the maida and yeast mixture in a bowl.
6. Add little water if required and mix to a chapati dough consistency.
7. Cover and keep aside for 20 minutes.
8. After 20 minutes the dough should have risen well.
9. Pinch small lemon-sized balls and roll them thick discs.
10. Using a biscuit cutter (or a bottle cap) cut a small hole in between.
11. Heat water for sugar syrup in a pan.
12. Add the sugar and stir well until fully dissolved.
13. When it reaches an one string consistency switch off the flame.
14. Heat oil in a deep frying pan.
15. Fry the prepared donuts until light golden brown and has puffed up.
16. Remove and add to the sugar syrup for 30 to 60 seconds.
17. Remove and transfer to a plate.
18. To make the chocolate sauce, combine all the ingredients in a pan.
19. Place it over low flame.
20. Stir gently until chocolate has fully melted and all ingredients are well combined.
21. Remove from flame and pour over the donuts.
22. Alternatively dip the donuts into the chocolate syrup and place them on the plate to dry.
23. Serve.
Tip: If desired, garnish with broken cashew nuts and almonds, chocolate powder or as preferred.