A delicious and tasty no bake chocolate cake for kids and adults.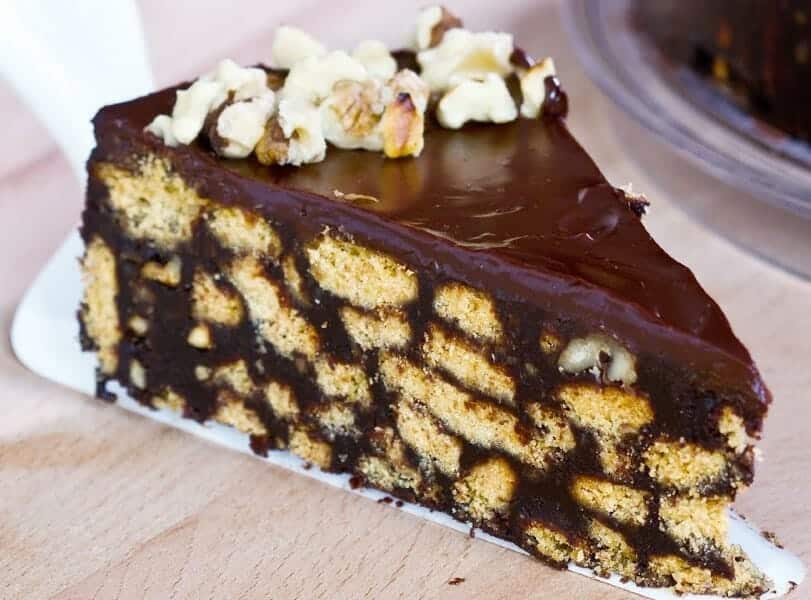 Rich in chocolate and made with biscuits, our Chocolate Biscuit Cake is easy to make and tastes awesome, especially as our method does not involve baking. One doesn't need a special occasion to enjoy chocolate.
So what if you don't have an oven to bake a cake. It's still possible to make one without an oven, flour and eggs. All you need is just a few ingredients on hand from your kitchen staples and you are ready. Oh yeah – you will need to purchase some dark chocolate or baking chocolate for this recipe. Apart from this, all else would be available in the kitchen.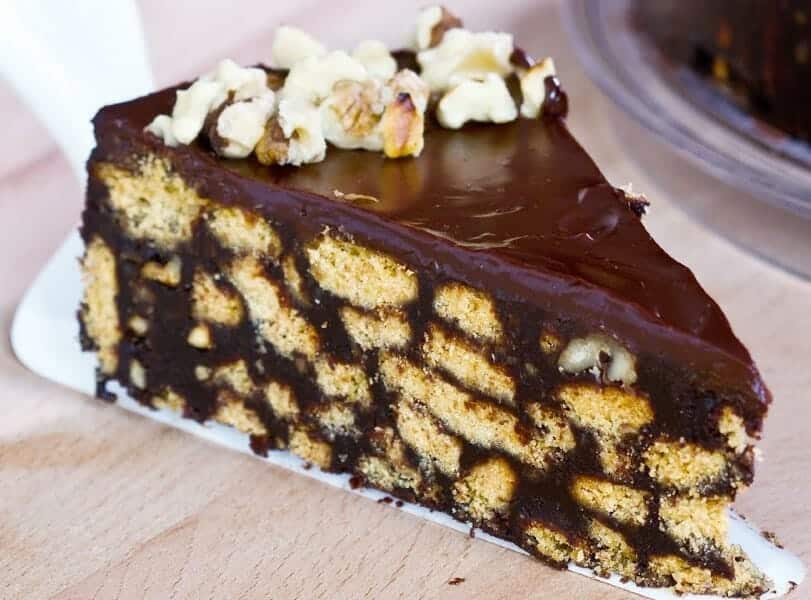 While involving kids in a cake baking process is a great idea, there are some chances of it going haywire or someone getting hurt if care is not taken. This Chocolate Biscuit Cake recipe of ours is foolproof. Get your kids going on small tasks and they are sure to thoroughly enjoy making their own cake. Who knows, if you have an older kid at home, they might get so interested that the next time, they will be all geared to whip this up by themselves instead of waiting for you!
If you want to know how to make a delicious cake with chocolates and biscuits, read further. Take care to choose any type of biscuits that are slightly bland in taste.
However, if you love baking or looking for simple recipes to bake, check out our section on cakes to get more ideas & build you baking skills. We'd love to see your creation, do share your pics with us.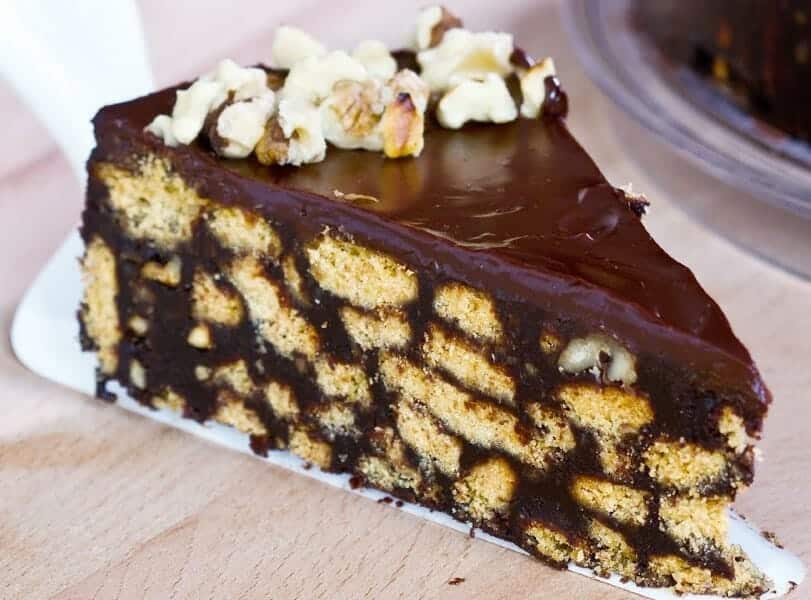 Chocolate Biscuit Cake
A delicious and tasty no bake chocolate cake for kids and adults.
Ingredients
500

g

Dark Chocolate

broken into small pieces

250

ml

Coconut Milk

100

g

Broken Cashew Nuts

1

tsp

Vanilla Essence

30

Digestive Biscuits

2

tsp

Instant Coffee Powder

1/4

cup

Hot Water
Instructions
Dry roast the cashews and keep it.

Heat a heavy bottomed pan under medium flame.

Add the chocolate and coconut milk together and melt them.

Add the roasted cashews, vanilla essence to it and mix well.

Crush 15 biscuits and add them.

Whisk well to combine together.

Take a small cup with little hot water and coffee powder and mix.

When the powder is dissolved in water, keep it aside.

Take a spring foam cake tin, grease with butter or oil. Alternatively, line a wide and deep vessel with baking/parchment paper.

Make a quick dip of biscuits one by one in coffee water and arrange them on the bottom part of the tin to form the first layer.

Pour half of the chocolate mixture on the biscuits.

Repeat the procedure by layering the biscuits and the chocolate mixture until it the mixture is over.

Even the top of the cake using a spatula.

Refrigerate the cake for 6 hours.

When done, run a knife along the sides and remove them from the mould.

Cut the cake into slices and serve chill.

Restore the remaining cake in the refrigerator.

This cake can be stored for a week.