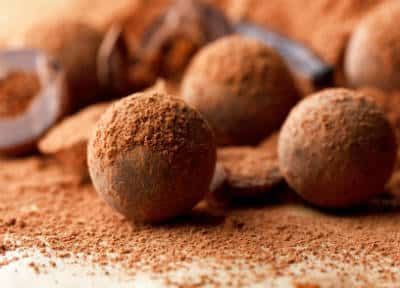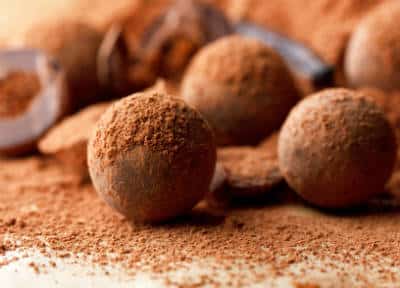 Ingredients:
Dark Chocolate – 500 gms, broken
Instant Coffee Powder – 2 tblsp
Boiling Water – 1/2 cup
Butter – 250 gms, unsalted, cubed
Brandy or Rum – 1/4 cup
Cocoa Powder as required for dusting
Method:
1. Heat a pan of water over medium flame.
2. Combine the coffee powder, boiling water and chocolate in a bowl and place it over the pan.
3. Ensure the pan does not touch the water.
4. Stir from time to time till the chocolate has melted and the mixture is smooth.
5. Add the butter to a bowl and gently pour the chocolate mixture.
6. Beat well until well blended.
7. Add brandy and gently mix.
8. Keep the bowl in a fridge for 3 hours or until firm.
9. Remove and roll the mixture into small balls.
10. Spread the cocoa powder in a plate and place the prepared balls in the plate.
11. Gently shake until the truffles are well coated with the cocoa powder.
12. Serve at once or roll them in small paper cups, place them in an airtight container and keep them in the fridge.