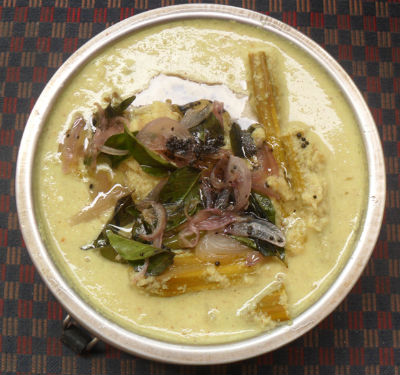 Ingredients:
Drumsticks – 2
Mango – 1/2, unripe (green)
Small Onions – 2, chopped
Green Chillies – 2, slit
Red Chilli Powder – 1 tsp
Coriander Powder – 1/2 tsp
Turmeric Powder – 1/4 tsp
Salt – 1/2 tsp or as per taste
Grind to a very fine paste:
Coconut – 1/2, grated
Small Onions – 1 to 2, chopped
Cumin Seeds – 1/2 tsp
Water – 3/4 cup
For tempering:
Oil – 1 tblsp
Mustard Seeds – 1/2 tsp
Small Onions – 1, chopped
Curry Leaves – handful
Method:
1. Peel and cut the drumsticks into small/medium pieces.
2. Peel the mango and cut into small cubes.
3. Heat a pan over moderate flame.
4. Add the drumsticks, mango, small onions, green chillies, red chilli powder, turmeric powder, coriander powder and salt.
5. Pour 3/4 cup of water and mix well.
6. Increase flame to high and cook for 5 to 8 minutes till drumsticks are tender.
7. Add a little more water if it becomes dry.
8. Add the ground paste and mix well.
9. Bring to a boil and remove from heat.
10. Heat oil for tempering and fry the mustard seeds till they start to splutter.
11. Add the onions and curry leaves.
12. Fry till onions turn brown.
13. Pour it over the curry, mix well and serve hot with rice.
image credit: linus kitchen