Delectable, rich, delicious and easy to make truffles with chocolate and toasted hazelnuts. Great dessert for any special occasion.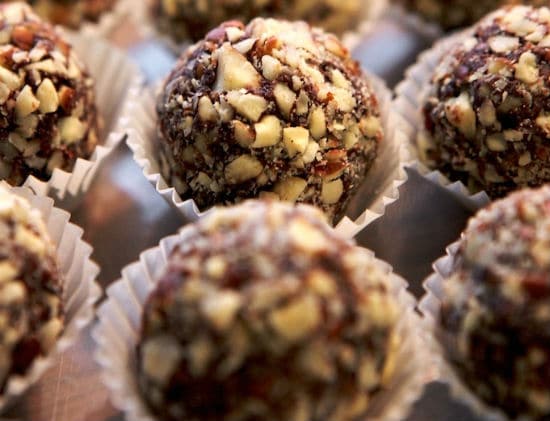 Ingredients:
Bittersweet Chocolate – 200 gms, chopped
Hazelnuts – 3/4 to 1 cup
Whipping Cream – 1/2 cup
Vanilla Extract – 2 tsp
Butter – 2 tsp, unsalted
Cocoa Powder – 1/2 cup (or as required), unsweetened
Paper muffin cups
Method:
1. Toast the hazelnuts for 3 to 5 and remove.
2. Do not let them burn.
3. Remove and rub them to remove the skins.
4. Finely chop the nuts and keep them aside until required.
5. Heat a large pan over medium flame. Pour 1 or 2 cups of water. The water level should be 1/4th of the pan depth.
6. Add the chocolates to a heatproof pan and place it directly in the water.
7. Add cream, stir well and simmer until the chocolates are fully melted and mixture is smooth.
8. Remove the pan from the flame.
9. Add the vanilla extract, butter and hazel nuts.
10. Pour this into a pan and let it cool to room temperature.
11. Cover with cling film and keep it in the fridge overnight.
12. To make the truffles, remove the chocolate from the fridge.
13. Scoop out a small portion and shape it into a ball.
14. Roll this in the cocoa powder and shake off any excess.
15. Place it in the muffin cups.
16. Place the truffles (with the cups) in a the fridge until firm.
17. When required, remove and thaw for 5 to 10 minutes before serving.
18. These truffles stay good for up to a month when stored in an airtight container in the fridge.
Tip: If desired, garnish them with some chopped hazelnuts.