Creamy Chocolate Indulgence: Dive into the velvety world of Chocolate Sorbet – a luscious frozen treat with intense cocoa flavours.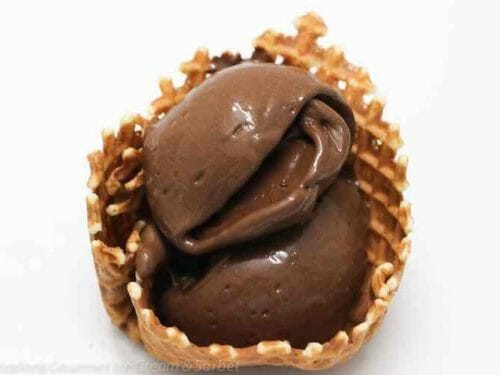 Chocolate Sorbet is an exquisite frozen dessert that promises an intense and delightful cocoa experience. Imagine a creamy, velvety concoction that encapsulates the pure essence of chocolate in every spoonful. With its smooth texture and rich flavour, this sorbet is an irresistible treat for chocolate enthusiasts and dessert lovers.
This recipe begins by creating a heavenly blend of finely chopped Dark Chocolate, Caster Sugar, and rich Cocoa Powder. A hint of aromatic Vanilla Extract elevates the flavour profile to create a symphony of tastes that dance on your palate. Boiling Water is then infused with the cocoa-sugar mixture, creating a compelling cocoa base that's simmered to perfection. The mixture is then graced with luscious chocolate and vanilla, melting into a harmonious concoction.
After a cooling sojourn in the fridge for 8 hours, the mixture is ready to embark on its freezing journey. A series of whisking and freezing stages ensure the sorbet achieves its ideal velvety texture. The result is an incredibly satisfying dessert with its smoothness and rich chocolate character.
When it's time to serve, a brief transition from the freezer to the fridge helps soften the sorbet slightly, making it easier to scoop and enjoy. The Chocolate Sorbet can stand gloriously on its own or be paired with complementary treats like fresh berries or a dollop of whipped cream.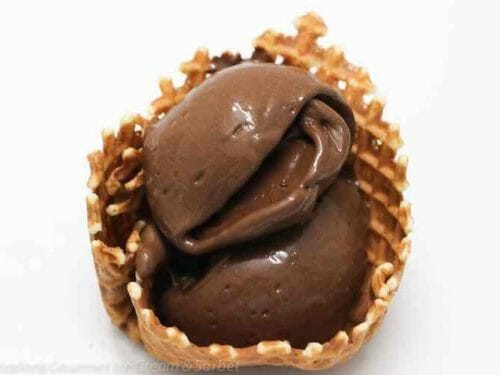 Chocolate Sorbet
Creamy Chocolate Indulgence: Dive into the velvety world of Chocolate Sorbet – a luscious frozen treat with intense cocoa flavours.
Ingredients
25

gms

Dark Chocolate (finely chopped)

100

gms

Caster Sugar

1 1/4

tbsp

Cocoa Powder

1/2

tsp

Vanilla Extract

300

ml

Water
Instructions
Combine cocoa powder and sugar in a bowl.

Boil water in a pan.

Add cocoa mixture and simmer uncovered for 3 minutes, stirring occasionally.

Remove from heat. Add chocolate and vanilla extract. Mix until the chocolate melts.

Cool and refrigerate for 8 hours until well chilled.

Pour mixture into a freezer-safe container, freeze until half frozen.

Remove and whisk well. Freeze again for 1 hour, whisk again.

Freeze until completely frozen.

Before serving, transfer to the fridge for 15-20 minutes for easier scooping.
Serving Size: 4 servings
Frequently Asked Questions (FAQs):
How does Chocolate Sorbet differ from traditional ice cream?
Chocolate Sorbet offers a dairy-free, intensely cocoa-packed alternative to ice cream. Its smooth, velvety texture and rich chocolate flavour make it a unique frozen treat, perfect for indulging in something different.
Can I customize the Chocolate Sorbet with mix-ins?
Absolutely! Consider adding chopped nuts, swirls of caramel, or even a dash of chilli powder for a creative twist on the classic recipe.
What's a suitable pairing for Chocolate Sorbet?
For a delightful pairing, serve Chocolate Sorbet alongside a scoop of creamy vanilla ice cream or with a sprinkling of crushed chocolate cookies. The contrast in textures and flavours creates a harmonious dessert experience.