A traditional and delicious Diwali burfi sweet made with pistachios.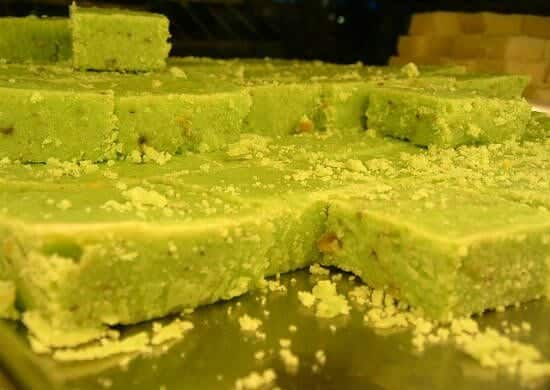 Ingredients:
Pistachios – 2 cups
Sugar – 2 cups
Water – 1 cup
Ghee – 1 1/2 to 2 cups
Edible Silver Foil for garnish
Pistachios – few, broken, to garnish
Green Food Colour – little (optional)
Cardamom Powder – a pinch (optional)
Method:
1. Soak the pistachios in hot water for 5 minutes.
2. Drain and remove the skin.
3. Heat a pan over medium flame.
4. Add the pistachios and dry roast until crisp.
5. Grind to a fine powder and remove.
6. Heat water in a heavy-bottomed kadhai over medium flame.
7. Add the sugar and stir well until fully dissolved.
8. Simmer until one string consistency is reached.
9. Add the powdered pistachios and mix well.
10. When the mixture starts to stick to the bottom, gradually add the ghee and stir well.
11. Keep stirring until it starts to leave the sides of the pan.
12. Transfer to a greased plate.
13. Garnish with silver foil and broken pistachios.
14. Before it cools fully, cut into small squares/rectangles.
15. Store in an airtight container.