These elegant, simple, sweet and easy to make Chocolate Truffles make a great Valentine's Day treat (or a great dessert for any meal).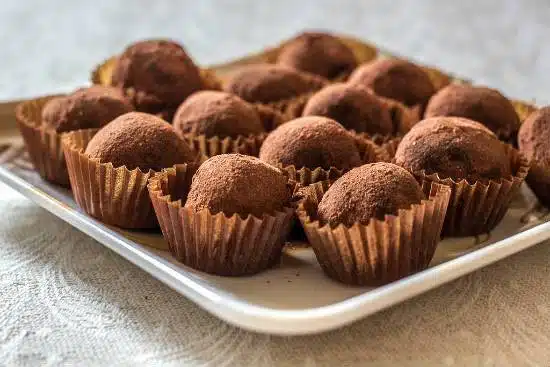 Ingredients:
Semi-Sweet Chocolate – 500 gms, chopped
Cocoa Powder – 1/2 cup
Icing Sugar – 1/2 cup
Thick Cream – 500 ml
Method:
1. Heat a pan over medium flame.
2. Add the cream and simmer for 5 to 10 minutes.
3. Pour this, into a bowl, over the chocolate and keep aside for a minute.
4. Gently whisk until the chocolate has fully melted and mixed evenly.
5. Add the sugar and mix well.
6. Cover the bowl with clingfilm and keep it in the fridge for 20 to 30 minutes or until firm.
7. Using a small scoop, scoop about 1 to 2 tblsp of the mixture and shape them into balls.
8. Roll them in the cocoa powder and place them in the fridge until ready to serve.