When it comes to maintaining a healthy diet, one of the biggest difficulties is finding enough time to prepare good, wholesome fare. When you`re trying to juggle work, your social life and family commitments, it`s all too easy to fall back on junk food or ready meals instead.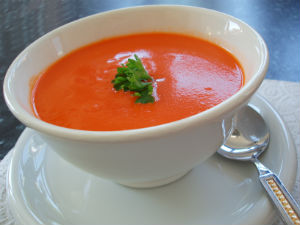 The great thing about soups is that they can easily be prepared in large batches and stored in a fridge or freezer for later use. If you want the benefit of a quick meal but with lots of variety, simply prepare a basic soup mix and then add a few fresh ingredients to that day`s serving for a new taste sensation each and every time.
Soups tend to be low in calories and fats and are also a great way to make sure you are getting enough vitamins and minerals without having to work your way through a mound of vegetables at every meal. Simply throw in a handful of dark leafy greens like spinach, kale or sprouting broccoli and blend them into the mix.
Another benefit of soups is that their high water content helps you to feel fuller on fewer calories, reducing the desire to snack between meals. If you want your soups to be as healthy as possible, try to ensure they contain less than 3 grams of fat per serving, more than 3 grams of fibre and less than 600 mg of salt.
Making fresh soups of your own also means you know exactly how much of each ingredient has been added. Soup from tins or cartons often contains very high levels of salt and, if they contain meat, they may also be high in fat. If you decide to go down this route, be sure to check the nutritional information on any soups you buy so that you can make the best possible choices.
Although salt can greatly enhance the taste of a soup, it can also lead to raised blood pressure. Experiment with other herbs and spices like ginger, pepper, oregano and parsley to bring out the flavour of your soup without adding extra sodium.
Although most homemade soups will be much healthier than anything you can buy in a store, some varieties will be better than others. All vegetables come with various health benefits but tomatoes in particular are a great source of lycopene, a powerful antioxidant. Beans are high in protein and fibre and make a great, filling addition to any soup. Onions and garlic are also high in antioxidants which have been shown to have an essential role in keeping our bodies free from disease.
If you want to add meat to your soup, the two healthiest options are chicken and turkey. Both absorb flavours well, are low in fat, high in protein and can easily turn a soup from a starter into a filling main course.
Although specialist automatic soup makers are available, they often provide less control over the process than making soup by hand. Everything you need to make soup can be found at your local supermarket. If you want to ensure the highest possible quality, utensils can be found at any good catering equipment supplier allowing you to make soup the way the professionals do.