Man has been endowed with a unique ability to think. Using this ability, humans across the world develop the concept of cooking their food before consuming it. Thanks to this concept we have some of the most delicious recipes from all over the world being cooked and served in different countries. Chicken recipes are no exception. The world holds the secret to some of the most delicious chicken recipes as they are cooked and served in a unique style in different countries. We, in India tend to consume chicken on a larger scale compared to some of the other nations of the world who consume pork, beef and the flesh of other animals as a part of their non-vegetarian diet besides chicken. Thus the concept of chicken recipes is riper in our country than other parts of the world. Many dishes have travelled from India to the world and have become a craze in the western part of the world.
India is blessed to be one of the most fertile regions of the world; we also enjoy the tropical climate which helps the growth of some of the tastiest spices and herbs in the world. The chicken recipes made using these invaluable spices and served with incomparable hospitality have made us, the country of India the hub and master of chicken recipes. We will look at some of the most popular recipes in India made out of chicken, these dishes are not only eaten with a lot of zest and enthusiasm in India but have also been able to tread international borders garnering positive reviews and millions of fans from across the world. We are about to mention some of the most wonderful things you can do with your chicken to make it a delight for every tongue.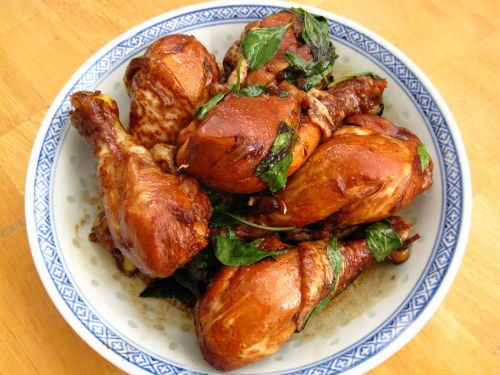 Chicken Tandoori: Arguably the most famous chicken dish in India and among Indians around the world. We grow up with this dish in India and every hotel or a roadside eatery shop will have the chicken dancing on the fire ready to be served onto your plate. The crispy outside yet tender inside chicken is one of my favorites and we can enjoy it with any sauce or chutney in the world. The chicken is marinated with a mixture of different spices like pepper powder, chili powder, cumin seed powder and ginger garlic paste which make the chicken meat soak in the flavors and aromas of these spices. The chicken is set aside for an hour or so and is then cooked in an oven which is pre-heated to a certain temperature. We in India enjoy this chicken being cooked in the grand old tandoor which resembles a small well that has coal blocks burning inside. The chicken is inserted into this well, safe and away from the coals, yet closes enough to cook well and a supremely tasty dish is served after sprinkling lemon juice on top.
Chicken Biryani: This is a dish that has reached the nook and corners of the world and is served by many chefs the world over. A very tasty chicken-rice combination, the dish is prepared by cooking both rice and chicken together in a special pot so that the rice cooks well and aroma captures the imagination of the person about to eat it. The preparation looks royal too and the person eats more with the eye than the mouth.
Chicken Chettinad: This is a spicy preparation and made majorly in south India and more so in the state of Tamil Nadu with select spices and preparation techniques. The dish is enjoyed by people of south India and the rest of India is yet to catch up on the craze of this delicious chicken recipe.
Chicken Korma: This is a mild dish made out of yogurt and select spices and is a rich dish that will make your senses admire every bit of the preparation running down your throat. Very famous in regions of north India, this dish has cashew-nuts playing an important part in its taste and grandeur.
Chicken Tikka Masala: Another famous dish that can be enjoyed in any hotel across India. We love to grill our chicken and then cook it with the finest Indian masala. This recipe is no different. Grilled chicken with all its crispiness in a gravy that is rich in taste and aroma, that's Chicken Tikka Masala for you.
Butter Chicken: Every Punjabi's delight and a cult recipe all over the world. This is a chicken gravy made with butter as its base and has made many tongues go bonkers over it. Possibly the second most popular recipe in the world after the Tandoori.
Hyderabadi Chicken: Chicken from the land of Nawabs is very popular in all parts of India known for their typical taste and masalas.
Chicken Tikka: Grilled chicken that is more of a takeoff from the American barbeque is also very famous in India.
Palak Murg: Who would mix spinach in a chicken recipe and make it taste good? Indians would. We make sure that vegetables are a part of all our recipes and Palak Murgh is one of the more famous ones.
Chicken Mughlai: Spices and flavors of the Mughal world, served with Indian hospitality.
Go ahead make these at home and give your family the chicken surprise.