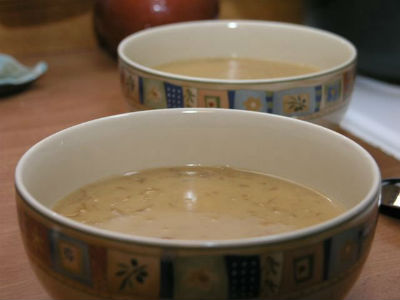 Ingredients:
Onions – 2, large, finely sliced
Butter – 2 tblsp
Thyme – 1/8 tsp, dried
Bay Leaf – 1/2
Vegetable Stock – 2 1/2 cups
Garlic – 1, small clove, quartered or halved
Salt as per taste
Black Pepper Powder as per taste
Parsley – chopped, to garnish

Method:
1. Heat butter in a large pan over medium flame.
2. Add the onions and cook till very soft and lightly brown, around 25 to 35 minutes.
3. Add the thyme, bay leaf, garlic and cook for a minute.
4. Add salt and pepper.
5. Pour the stock and bring to a boil.
6. Reduce flame and simmer for 10 minutes.
7. Cover with a lid and simmer for 1 to 2 minutes.
8. Remove bay leaf and garlic.
9. Transfer to individual serving bowls.
10. Garnish with parsley and serve hot.
Tip: Serve with garlic bread.
Note: image is for illustration purposes only and not that of the actual recipe.
Image credit: Anne