This delicious Mexican style soup with chicken, tortilla chips, capsicum and tomatoes is easy to make, flavourful and is ideal as a starter to any meal or can be also served on a cold day.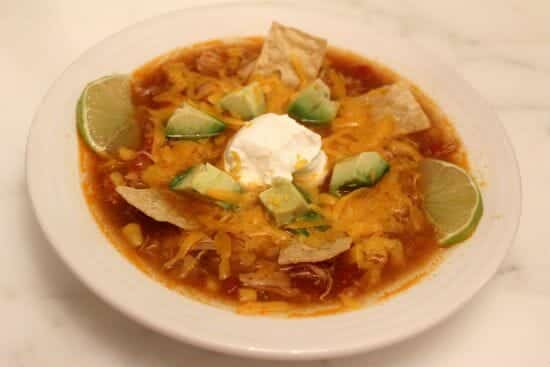 Ingredients:
Chicken – 200 gms, cooked, finely chopped or shredded
Onion – 1, small, chopped
Red Capsicum – 1/2, chopped
Green Capsicum – 1/2, chopped
Jalapeno – 1, chopped
Garlic – 1 clove, minced
Cumin Powder – 1/2 tsp
Red Chilli Powder – 1/2 tsp
Coriander Powder – 1/4 tsp
Dried Oregano – 1 tsp
Tomatoes – 1 cup, chopped
Chicken Stock – 2 1/2 cups
Sweet Corn Kernels – 1 cup
Sunflower Oil – 3 tsp
Coriander Leaves – handful, chopped
Juice of 1/4 Lime
Salt as per taste
Tortilla Chips – to serve (available in supermarkets)
Slices of Avocado to garnish (optional)
Method:
1. Heat oil in a pan over medium flame.
2. Saute the onions, garlic and capsicums for 3 to 4 minutes, stirring from time to time.
3. Add the cumin powder, red chilli powder, coriander powder and oregano.
4. Stir well and cook for a minute.
5. Add the chopped tomatoes and chicken stock.
6. Stir and bring to a boil.
7. Reduce flame and simmer for 5 to 10 minutes.
8. Add the chicken and sweet corn.
9. Simmer for another 3 to 4 minutes.
10. Remove the pan from the flame.
11. Add lime juice, coriander leaves and salt.
12. Stir to mix.
13. Add some tortilla chips to serving bowls.
14. Pour the soup on top.
15. Garnish with some more tortilla chips and avocado slices.
16. Serve with a dollop of cream if desired.