Quesadillas are a popular Mexican dish often served as snack or during lunch. These Black Bean Quesadillas are simple, quick and delicious. Plus they make a great meal busy weekdays or lazy weekends.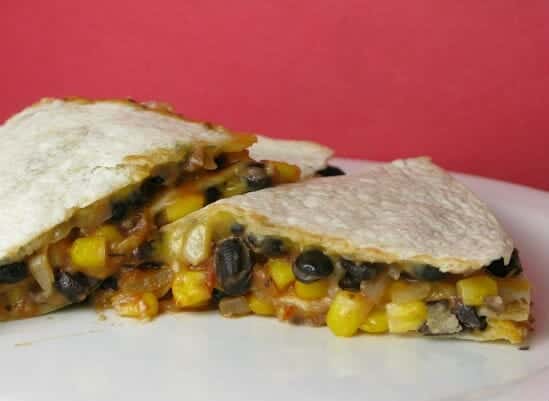 Ingredients:
Canned Black Beans – 1/2 cup, rinsed
Sweet Corn Kernels – 1/4 cup
Spring Onions – 2 tblsp, finely chopped
Coriander Leaves – 4 tsp, finely chopped
Cheddar Cheese – 1/2 cup, shredded
Tortillas – 4
For the Seasoning:
Red Chilli Powder – 1/4 tsp
Cumin Powder – 1/4 tsp
Paprika Powder – 1/8 tsp
Salt – a pinch
Black Pepper Powder – 1/8 tsp
Garlic Powder – 1/8 tsp
Onion Powder – 1/8 tsp
Dried Oregano – 1/8 tsp
To make the Salsa:
Tomatoes – 1/4 cup, finely chopped
Coriander Leaves – 1 tblsp, chopped
Shallot (Small Onion) – 1/2, finely chopped
Garlic – 1/2 clove, minced
Jalapeno – 1/4, finely chopped
Lime Juice – 1 tsp (adjust as per taste)
Salt as per taste
Pepper Powder as per taste
Method:
1. Combine the black beans, sweet corn kernels, cheese, spring onions and coriander leaves in a large bowl.
2. Mix all the seasoning ingredients and add 1/2 tsp to the bowl.
3. Combine all the salsa ingredients and add 1/4 cup to the bowl.
4. Mix until evenly combined.
5. Place 2 of the tortillas on a flat surface.
6. Divide the filling amongst the tortillas and cover with the remaining two.
7. Heat a tawa over medium flame.
8. Cook the prepared tortillas on both sides until the cheese has melted and the tortillas are crispy and brown.
9. Remove and transfer to a serving plate.
10. Cut them into halves or quarters or serve them whole with any remaining salsa.