Delicious and tasty soup with Carrot, Masoor Dal and Coconut Milk.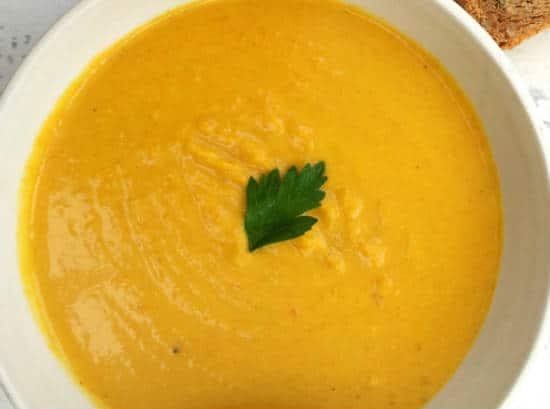 Ingredients:
Carrots – 250 gms, peeled, grated
Coconut Milk – 125 ml
Masoor Dal – 1/2 cup
Coconut Oil – 3 tsp
Onion – 1, chopped
Garlic – 1 clove, crushed
Ginger – a small piece, finely grated
Green Chilli – 1, small, chopped
Tomatoes – 400 gms, lightly ground to a puree
Coriander Leaves – 4 tblsp, chopped
Curry Paste – 1 tblsp (available in supermarkets)
Method:
1. Heat coconut oil in a pan over medium flame.
2. Saute the onions, garlic, ginger and green chillies for 2 to 3 minutes.
3. Add the curry paste and cook for a minute more.
4. Add carrots and stir well.
5. Cook for another minute.
6. Add the dal, tomatoes coconut milk and 500 ml of water.
7. Bring to a boil and reduce flame to low.
8. Simmer for 15 minutes, stirring from time to time.
9. Remove the pan from flame and beat well (using a hand blender if available) until smooth.
10. Garnish with coriander leaves.
11. Pour into individual serving bowls.
12. Serve at once.