Indian culinary system stresses a lot on the delectability of snacks. As such, the preparation is conscientiously carried out to excite the palate with a potpourri of traditional and innovative spices.
Here is a list of 25 popular Indian Snacks: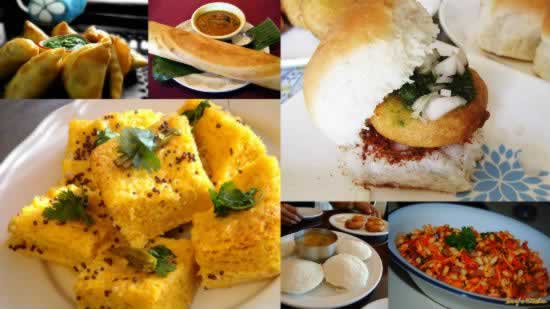 Bhel Puri: Luscious, low fat and brimming with nutrition are the 3 characteristics of this lip smacking snack.
Vada Pav: A popular street food native to Maharasthtra. A Batata Vada is placed inbetween a sliced pav and is also called as the poor man's burger.
Steamed Momos: This luscious appetizer is a specialty of Sikkim and is made by filling minced meat.
Banana Chips: The slices of banana are deep fried in oil and spices and dried. Sweet taste can be rendered by smothering the slices with sugar or honey.
Batata Vada: These potato fritters are very popular in Maharashtra and is prepared by deep frying mashed potato smothered with chickpea flour. Your palate will come alive by the tangy taste when vada is eaten hot with flavored condiments.
Bikaneri Bhujia: This crisp snack from Rajasthan is made from gram flour, moth dal, salt, red chili, black pepper, cardamom, cloves, groundnut oil and spices. The dough is sieved to form finger shaped snacks and then deep fried in vegetable oil.
Samosa: Fried vegetable and potato is stuffed inside a triangular cover of fried gram flour. The savory snack when served piping hot with condiments like tamarind chutney will thrill your palate.
Bonda: This South Indian snack is not restricted to a single taste and assumes different flavors based on regional variations. Potato or other vegetable filling immersed in gram flour batter is deep fried to prepare spicy Bonda.
Vegetable Puff: This crispy and crunchy snack is liked by all. Can be served as a snack or as an appetizer.
French Fries: Deep-fried potato sticks popular not only in India but around the globe.
Dabeli: This spicy snack from Gujarat is prepared by blending boiled potatoes with Dabeli Masala and sandwiching the same between burger bun. Dabeli is garnished with roasted peanuts and pomegranate and served with condiments made of garlic, tamarind etc.
Dahi Vada: It is made by soaking vadas in yogurt and topped with coriander leaves, chili powder, shredded coconut etc.
Ghevar: This disc shaped Rajashtani snack is prepared from oil, flour and sugar syrup.
Bombay Mix: This snack is a variable mixture of spicy dried ingredients, mainly fried lentils peanuts, chickpea flour noodles, corn, vegetable oil, chickpeas, flaked rice, fried onion and curry leaves.
Jhal Muri: This Bengali snack is made from puffed rice, spices, raw mustard oil, minced onion and vegetables.
Kachori: This oval, flattened ball is prepared from fine flour filled with crushed and washed horse beans, gram flour, chili powder, salt, and spices.
Dhokla: This popular Gujarati snack is prepared from a fermented batter made using rice and chickpeas.
Butter Murukku: A popular South Indian snack that is relished throughout the year.
Namak Para: This delicious, crunchy snack is in the form of ribbon shaped strips and lightly seasoned with seeds of cumin, carom, caraway and deep fried in clarified butter.
Pakoda: This snack is prepared by deep frying the gram flour batter in hot oil and consists of eggplant, onion, potato, spinach, cottage cheese, cauliflower, bread, traditional spices and occasionally eggs.
Pani Puri: Crisply fried round, hollow puri is eaten with a mixture of tamarind flavored water, chili, spices and onions.
Masala Papad: The thin, crispy papad is eaten accompanied by chopped onions, tomatoes and condiments.
Potato Chips: Potato is sliced into thin pieces and baked till the slices become crunchy.
Vadai: This delicious fritter style snack is made from lentils, potatoes, and onions.
Paneer Tikka: Chunks of cottage cheese are marinated in spices and grilled on tandoor.