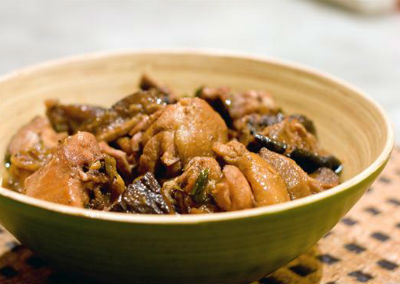 Ingredients:
Chicken – 1, whole, small size, excess fat removed
Water – 750 ml
Dark Soy Sauce – 3 tblsp
Galangal Root – a small lemon sized piece, bruised
Five Spice Powder – 1/3 tsp
Salt as per taste
Sugar – 1 1/2 tblsp
Sesame Oil – 1 1/2 tblsp
Vegetable Oil – 1 1/2 tblsp
Method:
1. Heat a pan over medium flame.
2. Add vegetable oil and sugar. Stir often.
3. Once the sugar has melted and caramelised, add the chicken and turn to coat it with the caramel.
4. Pour water.
5. Add soy sauce, galangal, five spice powder and salt.
6. Bring to a boil and reduce heat to low.
7. Cover the pan with a lid.
8. Simmer for 45 minutes or until the chicken is tender.
9. Switch off the flame and keep the pan covered for 10 to 15 minutes.
10. Transfer the chicken to a chopping board and slice into small pieces.
11. Add the sesame oil to the pan and cook over high heat until slightly thickened.
12. Drizzle this over the chicken pieces.
13. Serve garnished with cucumber and spring onions.