A quick and delicious sweet made with almonds during festivals like Diwali, Navratri or during any special occasions.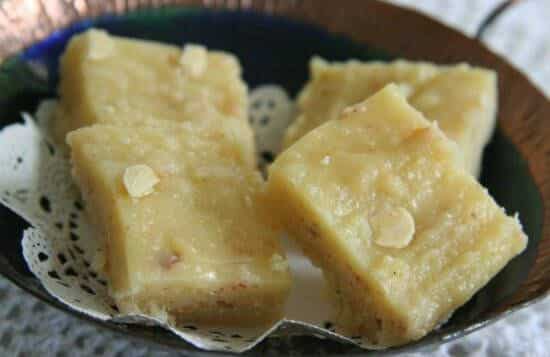 Ingredients:
Badam (Almonds) – 200 gms
Sugar – 400 gms
Ghee – 2 to 4 tblsp
Method:
1. Soak the badam for 5 to 8 hours.
2. Drain and peel the skin.
3. Spread them out to dry completely and grind to a fine powder.
4. Heat a pan of water over medium flame.
5. Add sugar and stir well until fully dissolved.
6. When it reaches an one string consistency and is sticky, gradually add the badam powder.
7. Keep stirring until it starts to leave the sides of the pan.
8. Grease a plate with ghee and pour the badam mixture.
9. Spread evenly and allow it to cool.
10. Just before it is set completely, cut into desired shapes.
11. Store in an airtight container.
12. If desired, garnish with some sliced almonds.