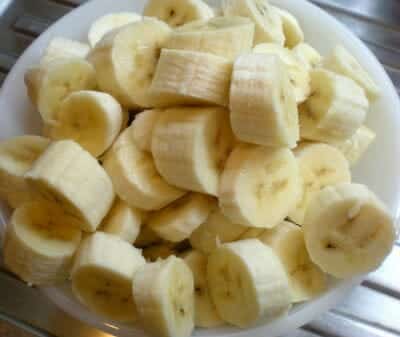 Ingredients:
Bananas – 10, medium sized
Milk Powder – 1/2 cup
Sugar – 3/4 cup
Cocoa Powder – 2 tblsp
Butter – 1/2 cup
Cashewnuts – 2 tsp, crushed
Pistachios – 2 tsp, crushed
Ghee – 100 gms
Method:
1. Heat 1 tsp ghee in a pan.
2. Lightly fry the cashewnuts and pistachios till golden.
3. Heat a heavy bottomed pan over medium flame.
4. Add 1 tsp ghee and the bananas.
5. Mix well.
6. Add sugar and stir well.
7. After a minute, add cocoa powder, milk powder and butter.
8. Reduce flame and gently stir till evenly combined.
9. When it starts to leave the sides of the pan and the bananas are well mashed, remove and transfer to a greased plate.
10. Garnish with cashewnuts and pistachios.
11. Cut into desired shapes.
12. Serve.
This burfi will be popular with kids and can be made during festive occasions too.