Add some elegance to your breakfast with this vibrant & lively jam.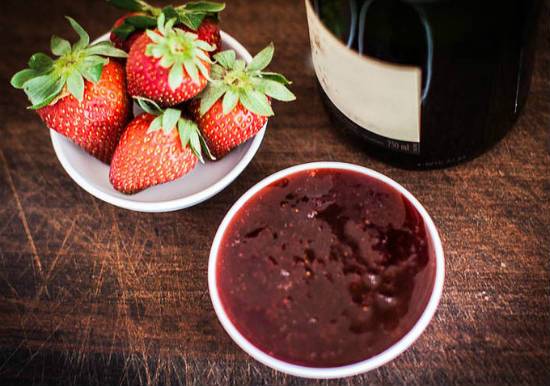 Ingredients:
Strawberries – 2 cups, hulled, quartered
Dry Champagne – 150 ml
Sugar – 3/4 cup
Corn Starch – 1 1/2 tsp
Lemon Juice – 2 tblsp
Method:
1. Heat a heavy-bottomed pan over low flame.
2. Add the strawberries, corn starch and sugar.
3. Stir well and pour the champagne.
4. Stir until the sugar has fully dissolved.
5. Now add the lemon juice and simmer for 10 minutes.
6. Increase flame to medium and bring to a gentle boil, stirring frequently.
7. To test if the jam is done, add 1 tsp onto a cold plate. If the jam runs freely, then it needs to simmer for some more time. If it doesn't, then it is done.
8. Switch off the flame and cool for 5 minutes.
9. Pour into clean, sterilized jars.
10. Use as required.