This easy to make Rava and Coconut Burfi is a delicious dessert sweet often made during festivals or special occasions.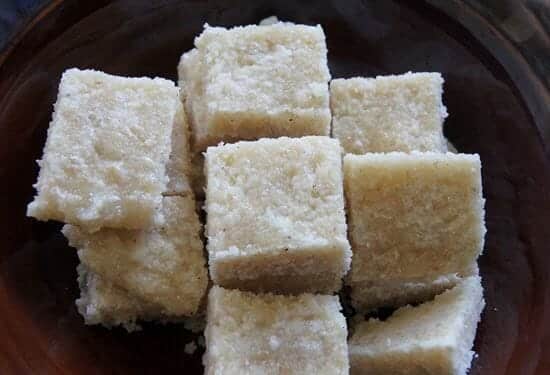 Ingredients:
Bombay Rava (Sooji) – 250 gms
Sugar – 600 gms
Coconut – 1/2, grated
Ghee – 250 gms
Cardamom Powder – 1 tsp
Cashewnuts – 2 tblsp
Water – 1/4 cup

Method:
1. Heat little ghee in a pan over medium flame.
2. Fry the cashewnuts lightly and remove.
3. Add the grated coconut and fry lightly. Remove and keep aside.
4. Add a little ghee to the pan and fry the rava till golden.
5. Mix sugar with water and bring to a boil.
6. Add 1 tsp of milk and remove the scum that rises to the top.
7. Boil till the mixture reaches a one string consistency.
8. Add rava, coconut and cashewnuts.
9. Stir well, adding a little ghee from time to time, till thick.
10. Pour into a plate and keep aside to cool.
11. Before it cools fully, slice into desired shapes.
12. Store in an airtight container.
13. Serve.
Tip: If desired you can garnish the burgi with whole cashews or sliced cashews.