Shortbreads are like biscuits and are a great afternoon tea or coffee treat. This walnut variation is a great holiday time treat especially during Christmas.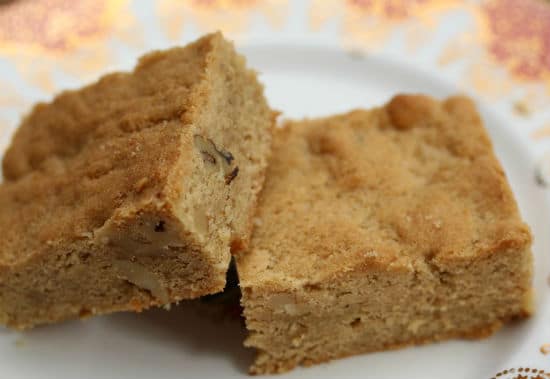 Ingredients:
Maida (Plain Flour) – 3 cups
Walnuts – 1 cup, chopped
Sugar – 1 cup
Butter – 1 cup, soft
Method:
1. Lightly toast the walnuts in a pan over medium flame and remove.
2. Mix them with 1 cup maida and grind to a fine powder.
3. Mix the remaining flour, sugar and walnut mixture in a large bowl.
4. Add butter and mix until crumbly and well combined.
5. Transfer this to a square baking pan.
6. Place the pan into a preheated oven at 325F/170C and bake for 20 to 30 minutes or until light golden.
7. Remove and keep aside to cool.
8. While it is still warm, cut into small bite-sized pieces and cool completely.
9. Store in an airtight container.
10. Stays good for up to a week.