Rich and delicious soup with almonds. Serve with toasted bread.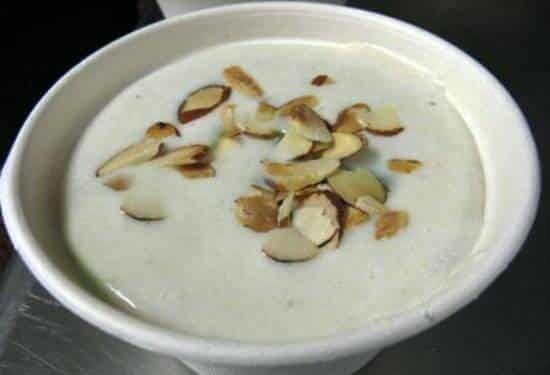 Ingredients:
Milk – 600 ml
Almonds – 300 gms
Butter – 4 tsp
Maida – 2 1/2 to 3 tsp
Sugar – 1 tsp
Thick Cream – 3 tblsp
Pepper Powder as per taste
Salt as per taste
Method:
1. Heat a pan of water over medium flame.
2. When it starts to boil, remove from flame and add the almonds.
3. Soak them for 5 minutes.
4. Drain and remove the skins.
5. Reserve a few almonds for garnish and grind the remaining with 1 1/2 cups of milk (add more if needed) to a smooth paste.
6. Heat butter in a nonstick pan.
7. Add the maida and saute for 30 to 45 seconds, stirring continously.
8. Add the remaining milk and stir well without any lumps.
9. Add salt, sugar, pepper powder and cook until it starts to boil.
10. Reduce flame and simmer for 5 to 8 minutes.
11. Add the almond paste and pour 3 to 4 cups of hot water.
12. Simmer for 15 to 20 minutes or until the soup starts to thicken.
13. Finely chop the reserved almonds and toast them until light golden.
14. Pour the soup into individual serving bowls.
15. Garnish with almonds and a dollop of cream.
16. Serve at once.