A easy to make, delicious homemade pasta with cauliflower. A simple and healthy lunch time or dinner dish that kids would also love. If desired, add a choice of vegetables also.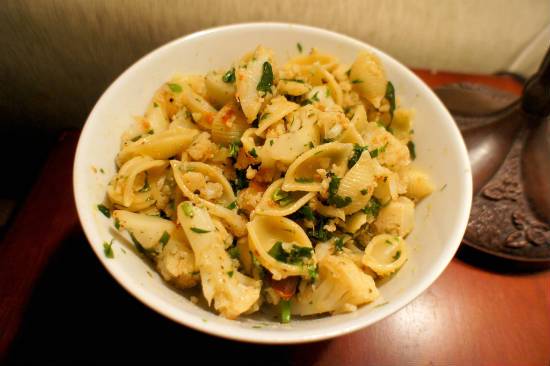 Ingredients:
Cauliflower – 1, small, cut into florets (or into small pieces)
Pasta – 200 gms (any variety should be fine, though we recommend fusilli)
Olive Oil – 2 tblsp
Onion – 1, medium, finely chopped
Garlic – 2 cloves, finely sliced
Red Chillies – 1, small, finely chopped
Salt as per taste
Black Pepper Powder
Tomato Sauce (or Pasta Sauce) – 1 1/2 to 2 tblsp
Coriander Leaves – few, chopped
Cheese – little, grated
Method:
1. Heat a large pan of water over medium flame.
2. When it starts to boil, add the cauliflower florets and cook until crisp and tender.
3. Remove the florets and transfer to a bowl of ice cold water.
4. Cook the pasta as per packet instructions and keep aside.
5. Heat oil in a pan over medium flame.
6. Add the onions, red chillies and garlic.
7. Saute for a minute.
8. Add the cauliflowers and cook for 3 to 5 minutes.
9. Add the pasta, tomato sauce and mix well.
10. Sprinkle a bit of salt and pepper powder.
11. Garnish with coriander leaves and grated cheese.
12. Serve.