Pasta with seafood is always a great combination especially when the seafood is fresh and succulent. This lobster pasta is one such example – simple, easy to make and makes a wonderful lunch or dinner.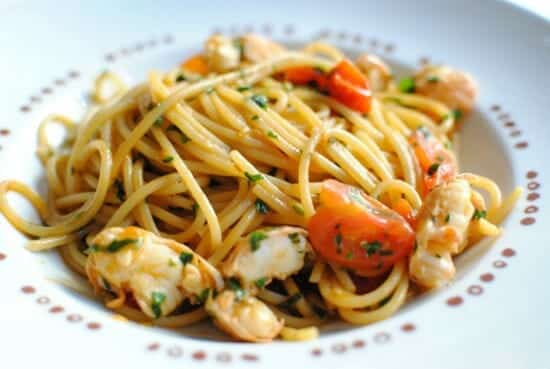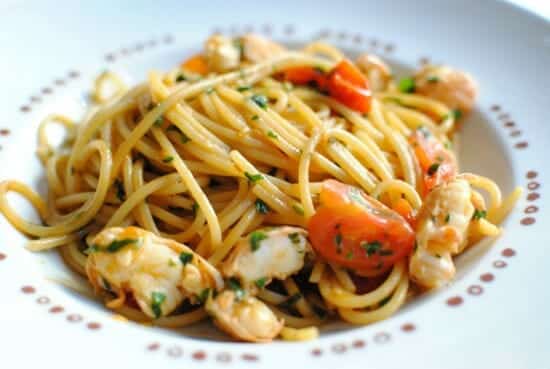 Ingredients:
Pasta (Spaghetti preferably) – 1 to 1 1/2 cups, cooked as per packet instructions
Lobsters – 2, whole
Olive Oil – 2 tblsp
Garlic – 2 cloves, finely sliced
Tomatoes (Cherry Tomatoes preferably) – 2 to 3, chopped
Green Chillies – 2, medium, chopped
Salt as per taste
Black Pepper Powder as per taste
Dry White Wine – 2 tblsp
Lemon – 1/2, wedges
Coriander Leaves – handful, chopped
Method:
1. Blanch the lobsters and remove the meat from the shells.
2. Chop the meat into small bite-sized pieces.
3. Heat oil in a pan over medium flame.
4. Fry the garlic for 10 seconds.
5. Add the green chillies, tomatoes and sprinkle some salt.
6. Fry for another 30 to 45 seconds.
7. Add the pasta and the lobster meat.
8. Stir well and cook. Add the wine.
9. Add the coriander leaves, some more salt and pepper powder.
10. Stir well and cook until the meat and pasta are cooked.
11. Transfer to a serving plate and serve with the wedges.