A healthy and vegetarian Bolognese that is perfect for a cozy weekend lunch or dinner. Traditional bolognese gets its flavor from the meat that's used. In this vegetarian version, the flavor comes from the mushrooms. A classic Italian dish in a vegetarian twist.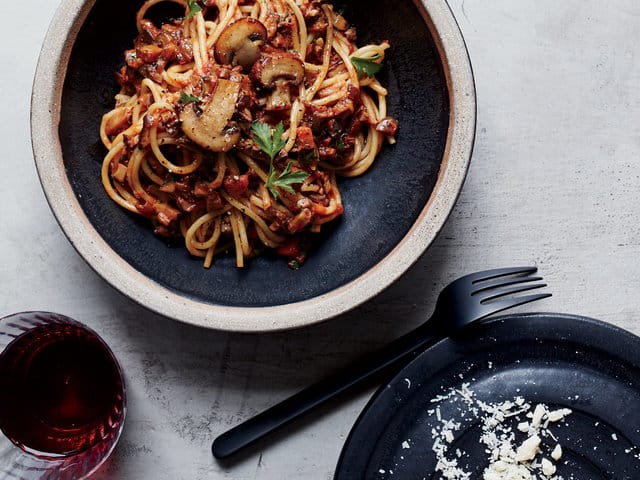 Ingredients:
Linguine Pasta – 225 gms (or Fettuccine)
Cremini Mushrooms – 450 gms, trimmed and quartered
Dried Porcini Mushrooms – 10 gms, rinsed and chopped
Carrot – 1 small, peeled, finely chopped
Onion – 1, small, finely chopped
Tomatoes – 400 gms, boiled, peeled, finely chopped
Butter – 2 tblsp, unsalted
Garlic – 2 cloves, minced
Sugar – 1 tsp (optional)
Tomato Puree – 3 tsp
Dry Red Wine – 1/2 cup (or Red Wine Vinegar – 1/3 cup mixed with 2 tblsp of water)
Vegetable Stock – 1/4 cup
Thick Cream – 1 1/2 tblsp
Soy Sauce – 1/2 tblsp
Salt as per taste
Black Pepper Powder as per taste
Parmesan Cheese – to garnish (optional)
Method:
1. Heat butter in a non-stick over medium flame.
2. Add the onions, carrotrs and porcini mushrooms. Cover the pan with a lid.
3. Saute for 5 minutes, stirring occasionaly.
4. Increase flame, remove the lid and cook for 10 minutes or until the vegetables begin to brown.
5. Add garlic and sugar.
6. Cook for 30 seconds.
7. Add the tomato puree and cook for a minute more.
8. Add the wine and simmer for 3 to 5 minutes or until nearly evaporated.
9. Add the tomatoes, vegetable stock, soy sauce, salt and pepper powder.
10. Simmer over medium-low flame for 8 to 10 minutes or until the sauce has thickened.
11. Switch off the flame.
12. Add the cream.
13. Cook the pasta in boiling salted water until al dente.
14. Drain the pasta, reserving some of the water and transfer to a big pan.
15. Add the sauce and mix well to combine.
16. Season with salt and pepper.
17. Garnish with parmesan cheese and serve.
Tip: Adjust the consistency of the bolognese at step #15 with the reserved cooking water as required.