Bajji's are a popular and delicious evening snack across Tamil Nadu. Made with paneer cubes and capsicum dipped in a batter and deep fried until golden brown.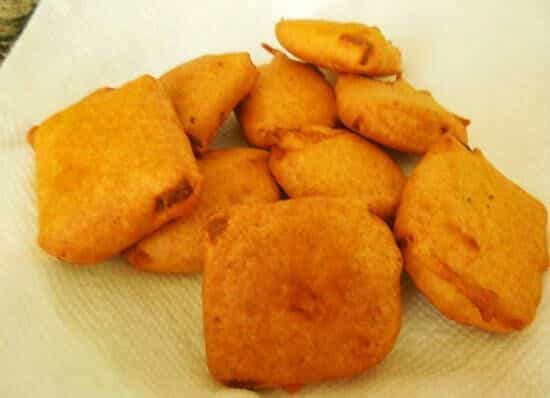 Ingredients:
Capsicums – 5 to 6, big, cut into squares
Paneer – 400 gms, cubed
Mint Chutney – 1 cup (recipe here)
Chaat Masala Powder – 1/2 tsp
Oil as required
Tooth picks – few, soaked in water for 5 minutes
For the batter:
Gram Flour – 5 to 6 cups
Rice Flour – 2 cups
Cumin Powder – 1/2 tsp
Red Chilli Powder – 1 tsp
Roasted Gram Flour – 2 tblsp
Cooking Soda – a pinch
Salt as per taste
Method:
1. Add the paneer cubes to a large bowl.
2. Add the mint chutney and mix well until evenly coated.
3. Combine all the batter ingredients and pour enough water.
4. Mix well to a thick but pourable batter.
5. Heat oil in a frying pan over medium flame.
6. Stick one paneer cube and one capsicum in a toothpick.
7. Dip this in the batter.
8. Add to the hot oil and fry until golden brown.
9. Remove the tooth pick and discard.
10. Transfer the bajjis to a plate.
11. Sprinkle chaat masala powder on top.
12. Serve hot with chutney or sauce of choice.