Murukku is a traditional savoury snack in South India. Manappari Murukku is the most popular and famous variety of them all. Manapparai is a small town in Tiruchirappalli.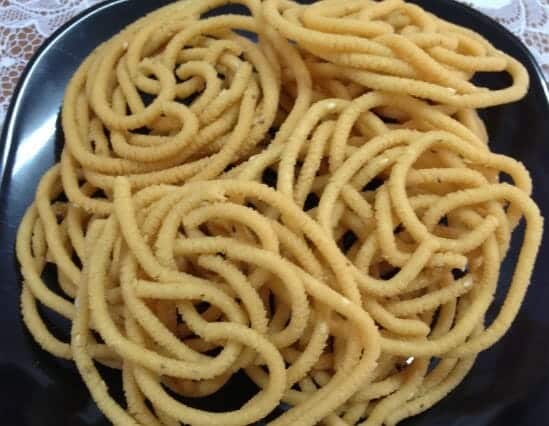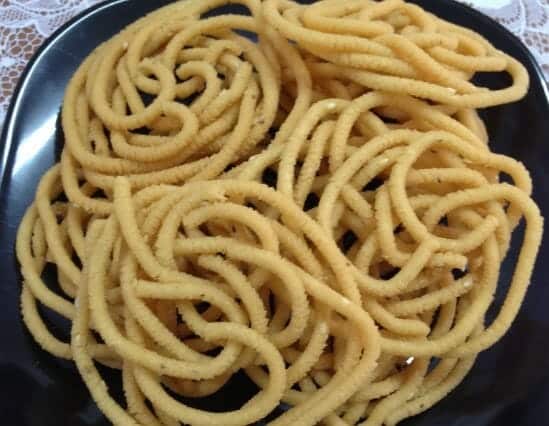 Ingredients:
Rice Flour – 2 cups
Cumin Seeds – 2 tsp
Sesame Seeds – 2 tsp
Asafoetida Powder – 1/2 tsp
Butter (or Ghee) – 2 tsp
Omam (Ajwain) – 1 tsp
Salt as per taste
Oil as required
Murukku Maker – greased and fitted with 3 hole disc (you can also use any other disc)
Method:
1. Combine rice flour, butter, salt, sesame seeds, cumin seeds, asafoetida powder and omam in a bowl.
2. Add enough water and mix well to a thick, pliable dough.
3. Fill the murukku maker till 3/4th with the dough.
4. Heat oil in a deep frying pan over medium flame.
5. Press the murukku maker over the hot oil and make concentric circles to get the murukku shape.
6. Cook on both sides until light golden brown.
7. Remove and drain excess oil.
8. Store in an airtight container.
9. Serve as a snack or as a side dish to rice dishes.
Tip: Instead of directly pressing the murukku maker over the hot oil, you can also do it on a greased plate/banana leaf and gently slide the murukku into the hot oil.