A simple & tasty low-carb / keto snack, this homemade cheesy cauliflower breadsticks are delicious and easy to make. They make a great anytime snack or even can be served as a starter during lunch or dinner.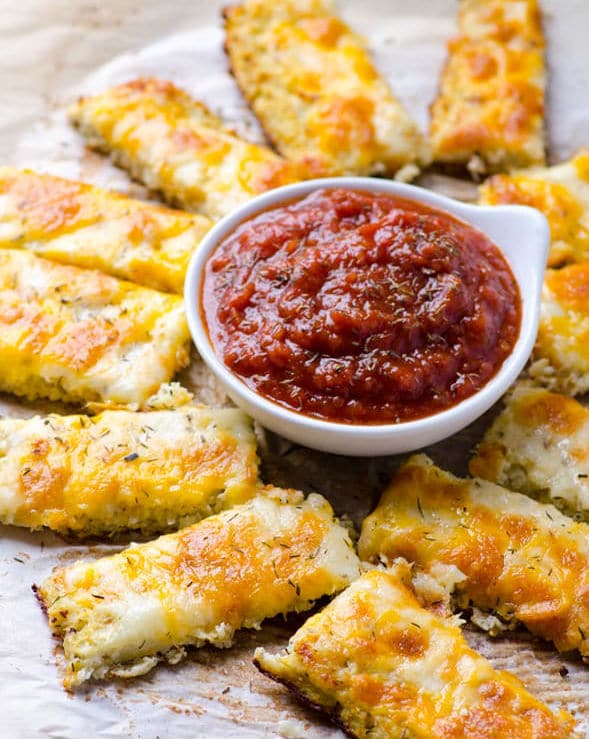 Ingredients:
Cauliflower Florets   –  1 cup
Mozzarella Cheese –  1/4 cup
Parmesan Cheese – 1/4 cup
Cheddar Cheese – 1/4 cup
Egg – 1
Basil – 4 tblsp
Parsley – 4 tblsp
Garlic – 2 Cloves, Chopped
Salt – 1 tsp
Pepper – 1 tsp
Method:
Blend the cauliflower florets to a fine powder.
Heat a pan under medium flame.
Cook the powdered cauliflower under the moisture is absorbed fully.
Remove from flame and keep it aside.
Take another wide bowl, add all the cheese together.
Take half portion of the cheese and add it to the cooked cauliflower.
Add other ingredients, egg, parsley, basil, garlic, salt and pepper.
Preheat oven at 425*.and take a baking sheet or tray and arrange this mixture into your desired shape.
Top them with the reserved cheese mixture.
Bake for 10 to 15 minutes until the cheese melts.
Remove from oven, cut them and serve hot.