Though pasta is an Italian dish, there are numerous variations depending on local flavours and taste. This is one such variation and is more of a Chennai style Vegetable Pasta. Makes a great after school dish for children.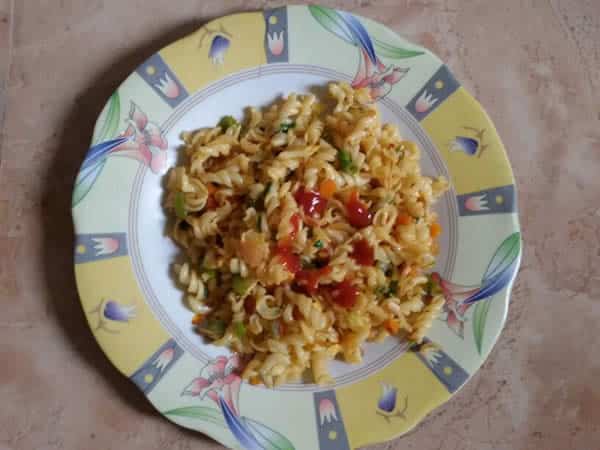 Ingredients:
Onion – 1, finely chopped
Tomato – 1/2, finely chopped
Cabbage – 2 to 3 tblsp, shredded
Carrot – 1, finely chopped
Capsicum – 1/2, finely chopped
Green Chilli – 1, finely chopped
Coriander Leaves – few
Pasta – 1 packet (any variety)
Cumin Seeds – 1/2 tsp
Oil as required
Salt as per taste
Red Chilli Powder as per taste
Tomato Sauce as required
Method:
1. Heat 1 tsp oil in a pan over medium flame.
2. Add the cumin seeds and fry for 30 seconds.
3. Add the onions, green chillies, tomatoes, carrot and cabbage.
4. Saute well for a minute or two.
5. Add salt, little red chilli powder and 1 or 2 tsp of tomato sauce.
6. Mix well and cook for another minute.
7. Heat a pan of water over medium flame.
8. Add a little salt and bring to a boil.
9. Add the pasta and cook until tender (or aldente).
10. Drain well.
11. Add the pasta to the pan.
12. Mix well.
13. Garnish with coriander leaves.
14. Transfer to a serving plate.
15. Serve at once.
Tip: If desired, garnish with grated cheese.