A delicious, simple and easy to make curry with cauliflower, tofu and green peas that is rich in flavour and taste.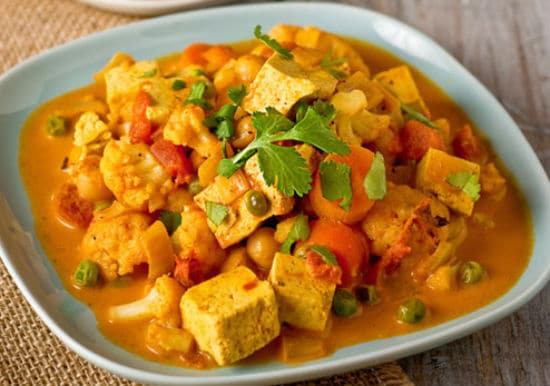 Ingredients:
Cauliflower – 1 1/2 cup, cleaned, washed, chopped
Tofu – 1/2 packet, drained, cubed
Vegetable Stock (or Plain Water) – 1/2 cup
Carrot – 1, chopped
Onion – 1, chopped
Ripe Tomatoes – 200 gms, chopped or pureed
Garam Masala Powder – 1 tsp
Chickpeas – 200 gms, soaked in slightly salted water for 6 to 8 hours or overnight
Coconut Milk – 175 ml
Green Peas – 1/2 cup
Coriander Leaves – handful
Oil – 1/2 tblsp
Salt as per taste
Black Pepper Powder as per taste
Method:
1. Drain the chickepeas, rinse well and keep it aside.
2. Heat oil in a pan over medium flame.
3. Saute the onions and carrots for 3 to 5 minutes.
4. Add the garam masala powder, salt, black pepper powder and stir well.
5. Add the cauliflowers, tomatoes, tofu and pour the vegetable stock or water.
6. Bring to a boil.
7. Reduce flame and cover the pan with a lid.
8. Simmer for 5 to 10 minutes.
9. Add the chickpeas, coconut milk and green peas.
10. Stir well and simmer for another 5 to 8 minutes or until the cauliflower is tender and cooked.
11. Switch off the flame.
12. Garnish with coriander leaves.
13. Serve with rice.