Serve as a starter or as an appetizer.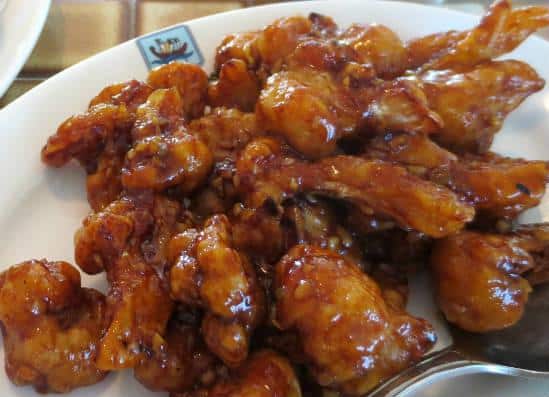 Ingredients:
Cauliflower – 1, medium, chopped
Corn Flour – 100 gms
Maida – 50 gms
Soy Sauce – 1 tsp
Red Chilli Powder – 1/2 tsp
Garlic – 4 to 5 cloves
Onion – 1, medium, chopped
Spring Onions – few + some for garnishing, chopped
Oil as required
Salt as per taste
Black Pepper Powder as required
Method:
1. Heat a pan of water over medium flame.
2. When it starts to boil, add the cauliflower pieces and simmer for a minute.
3. Remove from flame and keep aside for 5 minutes.
4. Drain well and transfer the cauliflower to a large bowl.
5. Add red chilli powder, corn flour, maida and salt.
6. Add a little water and mix well until evenly coated.
7. Heat oil in a deep frying pan.
8. Fry the cauliflower pieces until golden brown.
9. Remove and drain excess oil.
10. Heat 1/4 tsp oil in a pan.
11. Add garlic, spring onions and soy sauce.
12. Stir-fry for a minute.
13. Add the fried cauliflower pieces and mix well.
14. Sprinkle pepper powder on top and remove from flame.
15. Garnish with spring onions.
16. Serve.