This vegetarian spinach lasagna is delicious, healthy and comforting. Loaded with cheeses, spinach and mushrooms, this is the perfect meal for any time of day or any special occasion.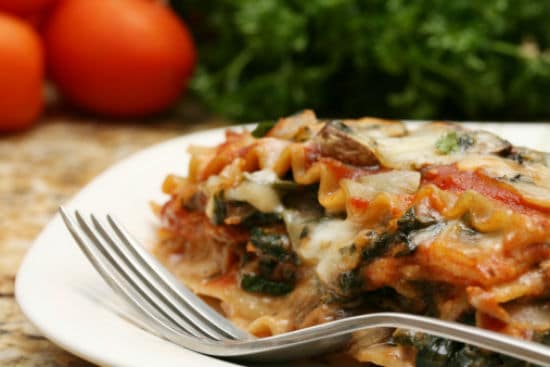 Ingredients:
Spinach – 3 cups, chopped
Lasagna Noodles – 175 gms
Tomato Sauce (or Pasta Sauce) – 3 cups
Mozzarella Cheese – 1 cup, grated
Parmesan Cheese – 1 cup, grated
Egg – 1 (you can substitute this with 2 tblsp corn flour mixed with 3 tblsp water)
Ricotta Cheese – 2500 gms
Nutmeg Powder – a pinch
Salt as per taste
Black Pepper Powder as per taste
Optional:
Mushrooms – 1 cup, chopped
Onions – 1 cup, chopped
Method:
1. Mix the mozzarella and parmesan cheeses in a bowl.
2. Reserve some for garnish.
3. Break the egg into a large bowl and whisk lightly.
4. Add the parmesan-mozzarella mixture, ricotta cheese, nutmeg, mushrooms, onions and spinach leaves.
5. Mix well.
6. Grease a medium baking pan and spread 1 cup of tomato sauce on the bottom.
7. Add half of the noodles and half of the spinach and cheese mixture on top of the noodles.
8. Spread 1 cup of tomato sauce and top up with the noodles and spinach cheese mixture.
9. Add the remaining tomato sauce on top and cover the pan with foil, ensuring it does touch the sauce.
10. Place the pan into a preheated oven at 350F and cook for 60 to 75 minutes.
11. Remove the pan from the pan and remove the foil.
12. Garnish with the reserved cheese and cook for another 5 minutes or until the cheese has melted.
13. Remove and allow it to cool before serving.
Tip: If you are using cooked noodles, then reduce the cooking time.