A simple, tasty and easy to make Penne Pasta with cheese and optional vegetables. Great for a quick lunch or dinner.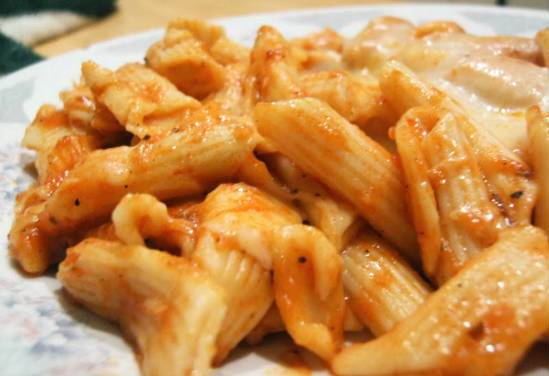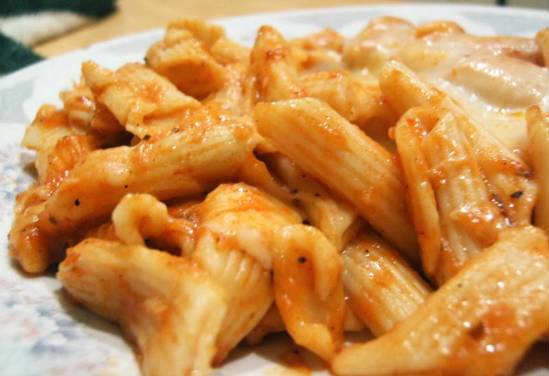 Ingredients:
Penne Pasta – 225 gms
Garlic – 1 clove minced
Olive Oil – 4 tsp
Zest and Juice of 1 small Lemon
Parmesan Cheese – 3 tblsp, finely grated
Thick Cream – 1/2 cup
Tomato Sauce (or Pasta Sauce) – 1 tblsp
Salt as per taste
Black Pepper Powder as per taste
Optional:
Cauliflower – 2 to 3 tblsp, chopped
Carrot – 1 tblsp, chopped
Green Peas – 1/2 tblsp, chopped
Sweet Corn – 1 tblsp, boiled
Method:
1. Cook the pasta as per packet instructions until al dente.
2. Heat 2 tsp of oil in a pan over medium flame.
3. Saute the garlic for 10 seconds.
4. Add the cream, tomato sauce, lemon zest, lemon juice, a pinch of salt and stir well.
5. Drain the pasta and add to the pan.
6. Stir until evenly coated.
7. Add the cheese and add a little water, if desired.
8. Cook for 3 to 4 minutes.
9. Sprinkle some salt and pepper powder.
10. Serve.
Tip: If you are using the vegetables, add them at step 3 and saute for 60 seconds.