Ulli Theeyal is a traditional Kerala dish made with shallots. Similar to the sambar, theeyal is made with okra (bhindi) or with bitter gourds too. Serve this with rice or as a side dish to dosa.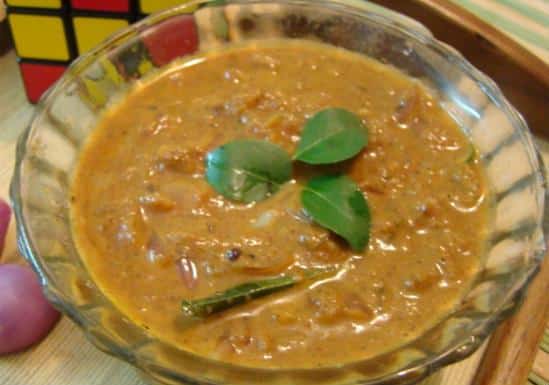 Ingredients:
Sambar Onions (Shallots) – 100 gms
Tamarind Extract – 1/2 to 3/4 cup
Coconut – 3 tblsp, grated
Coconut Oil – 1 1/2 tblsp
Fenugreek Seeds – little
Dry Red Chilli – 1 + 1
Mustard Seeds – little
Red Chilli Powder – as per taste
Turmeric Powder – a pinch
Coriander Seeds – 3 tsp
Curry Leaves – few
Salt as per taste
Method:
1. Peel, wash and finely chop the onions.
2. Heat a pan over medium flame.
3. Dry roast the fenugreek seeds, coconut, 1 red chilli and coriander seeds for a minute or two.
4. Remove, cool and grind to a fine paste, adding little water.
5. Heat oil in a pan over medium flame.
6. Fry the mustard seeds, red chilli and curry leaves for 45 to 60 seconds.
7. Add turmeric powder and onions.
8. When the onions turn golden, add the tamarind extract and stir well.
9. Simmer for a few minutes.
10. When it starts to boil, add the ground coconut mixture and salt.
11. Reduce flame to low and simmer.
12. The theeyal should neither be thick nor watery.
13. Serve with rice.